The Coronavirus (COVID-19) Guide for Canadian Organizations
As Canada's leading telemedicine provider, we're staying on top of the latest developments around the global coronavirus outbreak. This guide was put together by the Dialogue medical team and will be updated periodically as new information becomes available. It is intended to be a robust source of facts and medically-validated advice for Canadian HR professionals and the organizations they support.
Note that while we strive to keep this website up to date with the latest information, it is for information purposes only and does not constitute a medical assessment. The research and data on COVID-19 continues to grow and evolve on an hourly basis which means that this information may become outdated. Consulting this website is not a substitute for consulting your provincial/territorial public health department.
What is the coronavirus?
The 2019 novel coronavirus (COVID-19) has been identified as the cause of a worldwide severe respiratory illness outbreak, first detected in the Hubei Province in China. The virus is a new strain of coronavirus — which is in the same family of viruses that include respiratory illnesses such as the common cold, and previous outbreaks such as SARS-CoV (Severe Acute Respiratory Syndrome coronavirus) and MERS-CoV (Middle East Respiratory Syndrome coronavirus). Like SARS-CoV and MERS-CoV, COVID-19 originated in animals and spread to humans.
What are the symptoms to watch for?
Patients who have been diagnosed with the coronavirus (COVID-19) have been reported with mild to severe respiratory illness including symptoms of:
Fever (around 90% of patients)
Cough (mostly dry, around 80% of patients)
Shortness of breath (around 30% of patients)
Fatigue / malaise (around 30% of patients)
It is important to note that there are many types of viruses (including those that cause the common cold and influenza) that present with similar symptoms, and it is difficult to identify the disease based on symptoms alone. The only way to confirm if someone has COVID-19 is through laboratory testing.

Current evidence indicates that symptoms generally appear 2-7 days after exposure, with a maximum incubation period estimated to be 12-14 days. If you have recently traveled outside of Canada or have been in close contact with someone who has within the past 2 weeks and develop symptoms, it is important to seek medical care as soon as possible by contacting your local public health authority and following their advice.

While most cases of coronavirus are mild and will resolve on their own, the disease can be more severe for some persons and can lead to pneumonia, breathing difficulties, or, more rarely, death. Persons currently at highest risk of becoming severely ill with the virus are older persons and those with pre-existing medical conditions (such as diabetes or heart disease). If you develop severe symptoms or shortness of breath, regardless of whether you are at risk for coronavirus, you should seek medical care immediately at a clinic or emergency room.
What should I do if I suspect I have (or an employee has) contracted coronavirus?
If an employee exhibits any of the symptoms of the virus (even if mild) or if they live with anyone with symptoms, we suggest they should:
Stay home! The disease spreads easily so the best way to prevent transmission is to simply avoid others to which the employee could transmit the virus.
Report the illness to their manager. This will allow you to take further action with those they may have come into contact with since potentially contracting the disease.

Consult their local public health department for next steps

. Depending on the symptoms, they may or may not require testing or to take further action.
How can I keep myself (or my employees) safe from coronavirus?
There is currently no vaccine to prevent coronavirus disease 2019 (COVID-19). The best way to prevent illness is to avoid being exposed to the virus. To help all organizations effectively manage the outbreak, Dialogue created the below content for broad re-use. So please feel free to leverage in your organization or share however you'd like!
We'll keep the latest content posted above and make updates if/when necessary. We may also add more content so please check back often!
Our organization is considered an essential service, and some of my employees cannot work from home. What should they do?
Unfortunately, not all positions allow the flexibility to work from home. In that case, here are some general guidelines you can provide to these employees to help prevent virus transmission:
Instruct employees to remain 6 feet away from each other at all times.
Ensure that employees have access to stations to regularly wash hands with soap and water or with alcohol-based disinfectant.
Post signage on how to properly wash and sanitize hands with alcohol-based disinfectant. Our Healthy Workplace signage can be used to remind employees of best practices.
Instruct employees to take breaks separately (or at least 6 feet away from each other at all times).
Ensure break rooms and other public areas are regularly cleaned, and surfaces such as desks, tables, metal bars, are regularly wiped down with alcohol-based disinfectant.
Set expectations within the organization that workers may be slightly less productive than usual given the exceptional circumstances and the need to remain 6 feet apart.
Where can I (or my employees) find the latest coronavirus medical advice from reputable sources?
After hearing concerns from thousands of Dialogue patients looking for accurate and up-to-date information from public health authorities, Dialogue developed and launched a free online service. Named Chloe for COVID-19, this service offers the latest information from federal, provincial and territorial health authorities as the official response to the COVID-19 outbreak continues to develop.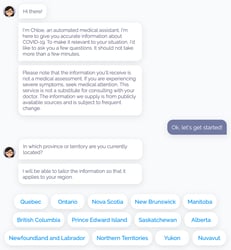 Where can I find links to reputable public health authorities?
Using our Chloe for COVID-19 app (noted above) will provide users with the latest information and links. Below are some direct links to reputable sources you can also use to stay up-to-date.
Can Dialogue be used if symptoms are suspected?
Through our virtual clinic, we can answer your questions on local public health resources, who to contact, and offer you and your family some advice on symptom relief and whether your symptoms require further assessment. We can also support you by sharing validated and trusted health information, helping you to avoid misleading sources.
However, it's important to note that although telemedicine can be used for advice and general assessment, we will help you seek in-person care if a physical examination is deemed necessary by our team. Furthermore, for any suspected cases, we must comply with our mandatory obligation to disclose the patient's identity to local public health authorities, and we will advise patients to contact their local institutions so that they can be cared for.
Can Dialogue refer patients for coronavirus testing?
To comply with requests from the federal and provincial governments, any suspected cases must go through the provincial healthcare authority. Local health authorities have specific care paths patients need to follow as they centralize all cases in specific testing and treating locations (for more information, click here). Dialogue can assess patients, but any suspected cases will be directed to the appropriate health authority. Patients will be provided with all the relevant information they need along with safety guidelines to avoid further spread of the virus
What if I have additional questions?
For any additional questions, you can consult the Chloe for COVID-19 FAQ. This page is updated daily based on the latest recommendations.