Guide Summary
Corporate wellness initiatives have gradually become expected by the multigenerational workforce, and companies are required to adapt. But purchasing a ping-pong table or offering a discount at the gym next door is no longer enough. As the health and wellness options can seem limitless, we've crafted this guide with concrete examples that you can implement in your organization. You'll also learn why corporate wellness benefits both employees and organizations, how to ensure your initiatives are successful, and much more.
The 2019 Ultimate Guide below will help you develop a corporate wellness strategy to keep your employees happy and health!
The Ultimate Guide to Corporate Wellness Strategies
We all know about hustle. From the millennial who recently graduated college and is looking for a first job to the mother of two trying to balance domestic and work responsibilities to the baby boomer mentoring colleagues, we all work in a competitive market with increasing daily demands.
That hustle can take a physical toll. We check our phones constantly, working into the evening; we can't make the time to buy fresh food to make for dinner; we hunch over our laptops and phones, creating poor posture. The sad reality is that too few modern workplaces are set up to promote healthy habits. Desk jobs involve long hours of sitting, and both the stress and excitement of a go-go-go lifestyle can lead to sleep disruption and some less-than-nutritious lunchtime choices.
This isn't just bad news for these tired, sedentary employees. It's also impacting businesses, who are seeing decreases in overall productivity and are pouring money into employee benefits in an effort to combat a bunch of preventable chronic issues like obesity, diabetes, and cardiovascular disease.
Now that we've given you the bad news—unhealthy employees cost big bucks—here's the good news: an analysis by Sun Life Financial showed that companies that kick-started an effective wellness program reduced costs and experienced financial gains, including:
11% higher revenue per employee
1.8 fewer days absent per employee per year
28% higher shareholder returns
For every $1.00 spent on wellness programs,

medical costs fall by about $3.27 and
absenteeism costs fall about $2.731
Corporate wellness programs are a win-win in the workplace world, where healthier employees are happier, and happier employees are more productive, which leads to corporate financial health.
This correlation is backed by hard evidence: a 2013 Sun Life-Ivey Canadian Wellness study showed that corporate wellness programs reduce absenteeism2, while a 2018 study by the McGill Comprehensive Health Improvement Program found that Canadian corporate wellness programs showed that, after 1 year, the benefits resulted in clinically important improvements in physical and mental health.3 It doesn't stop there: workplace health promotion programs can improve blood pressure and cholesterol levels. And these impact financial measures important to employers, including health benefits utilization and worker productivity.
But the key word here is "well-designed." You can't just stock your break room with granola bars and call it a day—programs work when they're tailored to the needs and goals of certain groups and when they provide enough opportunities from employee engagement, input, and feedback.
We've done the heavy lifting to help provide a structured approach to implementing a corporate wellness strategy, and compiled this guide. It contains clear steps to addressing a number of factors that affect employee health.

What are corporate wellness programs, anyway?
To answer this question, we first have to define "workplace wellness" and "corporate wellness," two pretty-similar-but-different ideas.
The phrase "workplace wellness" is an umbrella term that describes a number of programs and activities typically offered as part of employer-provided health plans. They're a means to help employees improve health and reduce healthcare costs. These effectively stop bad habits before they become health risks—think of programs that focus on:

Physical activity

Healthy nutrition

Tobacco cessation

Stress management
"Corporate wellness" is close in meaning: this term refers to programs, policies, benefits, and environmental support designed to amp up the health and safety of all employees. Corporate wellness programs can be:
Awareness-oriented: providing information to help employees make healthy lifestyle choices
Activity-oriented: combining awareness with participatory activities
Results-oriented: including a focus on measurable outcomes4
If that seems like a wide-ranging selection, that's because it is. Corporate wellness programs are designed to encompass everything from disease prevention/management to education, from telemedicine to health-related team-building activities.
A study from the International Foundation of Employee Benefit Plans found that, of companies that instituted wellness programs, 67% saw an increase in productivity and 67% reported that their employees were more satisfied.5
In 2017, the International Foundation of Employee Benefit Plans reported that 75% of employers offer wellness initiatives to improve overall worker health and well-being.6 According to a 2017 survey from the Conference Board of Canada, one-third of Canadian employers have a formal corporate wellness program in place and almost half have informal policies, stats that have jumped significantly since 2009.7 Furthermore, 49 percent of Canadian employees want more focus on health and wellness in the workplace.8
Why should companies address corporate wellness?
With limited budgets, competing priorities, and many other daily challenges, why should corporate wellness be on your radar? It's simple: healthy employees lead to healthy companies. If employees are sick, overweight, stressed, sleep-deprived, or disengaged, the company isn't going to thrive.
For instance, overweight and obese workers have been found to be:
Absent more frequently
Less productive at work
More likely to require short-term disability benefits
More likely to take disability pension.9
Beyond the imperfect metric of weight, inadequate levels of physical activity are associated with additional total healthcare expenditures.10 For example:
The direct healthcare costs of physical inactivity in Canada in 2009 was $2.4 billion, which represented 3.8% of overall healthcare costs.11
A modest reduction in risk factors associated with smoking, obesity, and physical inactivity of just 1% would result in an $8.5 billion annual reduction in economic burden by 2031.12
Basically, healthier employees perform better. Studies show that physically active employees are absent less frequently than their inactive counterparts,13 and that physically active adults have lower annual health care expenditures than insufficiently active adults.
All of this has an impact on a company's bottom line: Soma Analytics carried out a study in 2017 which showed that FTSE 100 companies that prioritize employee engagement and wellbeing outperform the rest of the FTSE 100 by 10 per cent.14
But the positive impact is about way more than profitability. Health tends to breed happiness in a very real way.
When companies prioritize wellness goals, especially combined with career development, the result is a more positive work environment, and the resulting successful employees. Employers are now using corporate wellness programs to increase employee engagement and to become an employer of choice.

How do corporate wellness initiatives benefit employees?
Promoting healthy habits is the tip of the iceberg when it comes to workplace wellness. These initiatives also do something invaluable: they show employees that their employers truly care about their health and well-being.
A well implemented and thoughtfully designed program brings a number of benefits to the workplace:
Reduced healthcare costs
Reduced absenteeism
Reduced stress
Increased productivity
Increased morale15,16
Unsurprisingly, this cornucopia of benefits has a pretty big influence on employee satisfaction. According to Canadian pharmaceutical company Sanofi-aventis's 2019 Healthcare Survey:
72% of employees with wellness programs at work felt their company's health plan met their needs very or extremely well.17
69% of employees agree that they see their employer more positively due to their benefits plan.
89% of employees who work at a company with corporate wellness programs see their company as having a wellness culture.
This, in turn, impacts job satisfaction: 89% of employees that praise their company's wellness culture say they are satisfied with their current jobs, compared to 59% without the benefits of wellness culture.
Forms of wellness programs … with examples
Wellness programs can take many forms—the only boundaries are those set by money, time, and imagination. Here are a few examples of programs that have delivered remarkable results and clear cost/benefit gains:
Merck Canada
In 2014, Merck Canada launched LIVE IT, a comprehensive wellness program in which participants took a baseline health survey and tracked their activity for a year. From a pool of 730 eligible employees, 688 registered for the program, and 66% tracked their activity for more than 6 weeks. It became one of the most impressive programs that have been studied: Participants who completed a health assessment after a year showed significant improvements in systolic blood pressure and reductions in poor sleep quality, high emotional stress and fatigue.18 A key factor in the program's success was the buy-in of company higher-ups, making employees feel it was okay to go get some exercise during the work day.19
SSQ Financial Group
Another success story is SSQ Financial Group's HealthWise Program, which targets four aspects that have to do with health and wellness in the workplace: a healthy workplace environment, healthy lifestyle habits, work/life balance and conducive management practices. Two years after launching, the program, the company saw a 34% decrease in its absenteeism rate.20 Another clear indication of its success at engaging employees is SSQ's presence at the SSQ Quebec City Marathon: Each year, more than 500 staff members and their families participate in the marathon.21
Moosehead Breweries
Finally, seven employers in New Brunswick implemented Inspire at Work, a workplace asthma self-management program that integrates telemedicine to great effect. The program consisted of two pre-scheduled private education sessions followed by phone consultations with a certified asthma educator from Medavie Blue Cross. The educator did an asthma assessment, taught inhaler technique, and created an action plan for each employee. Moosehead Breweries, one of the seven employers, said the program saved money through increased productivity (more than $11,000 for three months) and decreased absenteeism (more than $10,000 for three months). Overall, at Moosehead, there was roughly a $4 return for every dollar spent on the program.22


But one thing is important to keep in mind: variety. It's not enough to just organize an office ultimate frisbee team and scratch "corporate wellness" off your list. According to the American Psychological Association, the best wellness programs include five components:
Work-life balance
Health and safety
Employee growth and development
Employee recognition
Employee involvement
How do the pros tackle corporate wellness?
In a word: well.
Here are a few of the innovative ideas that major corporations have cooked up in order to promote corporate wellness23:
One million step challenge: At BP Canada, everyone in the company was challenged to walk or run one million steps in a year. It was part of the company's Elements for Life initiatives, which aims to improve employees' emotional, financial, and social health. Rewards for participation range from a casual dress day to donations to the winner's charity of choice.24


Comprehensive platform: Canadian financial group SSQ developed HealthWise Passport, a comprehensive program of exercise encouragement, personalized nutrition plans, and smoking cessation. Meeting yearly health goals is rewarded with prizes.25


Office running club and Fibre Fridays: Ontario financial services firm Williamson Group started an office running club that has grown into a yearly race. On Fridays, executives pay for a fruit and vegetable tray to encourage healthy eating.26


Employee field day: Companies like Harmless Harvest, makers of coconut water and tea, combine team-building activities with workplace wellness with field days. The team heads to a local park for sports and picnicking.


Valuing Healthy Minds: Toronto's Delta Hotels and Resorts hosts information sessions and support, including a Mental Health Week program.27 28


Office garden: Hootsuite, the Vancouver-based tech company, has a rooftop garden and an office gardening club that provides fresh fruit and vegetables. There's also a nap room!29


Reducing stress: The Manitoba Teachers' Society has a workplace wellness program that aims to reduce day-to-day stress and encourage self-care with massage chairs and smoothie delivery.30


Alternative commutes: Honest Tea offers free bicycles to employees to help them cycle to work.


Wellness wall: Toms Shoes has one at their office in Los Angeles where employees can post things like healthy eating tips, exercise routines, etc.
What makes a corporate wellness program successful?
Convinced and planning to implement a corporate wellness program? Easy. Imagining the benefits of a corporate wellness program? Very easy.
Creating a successful corporate wellness program? Actually, still pretty easy! But there are a number of guidelines that need to be followed.


Spread Awareness
Another aspect of a successful corporate wellness program is that people need to participate. And to get people to participate, it's important to get the word out.
Send out a monthly wellness newsletter that addresses updates in the program, incentives and wellness challenges.
Host meetings to talk about the company's wellness program.
Elect "wellness champions" and feature them in newsletters or the company website.
Bring in guest speakers to talk about participating in corporate wellness programs and how employees save on healthcare costs.
Use a wellness portal to help employees keep track of their progress towards earning rewards and incentives.
Establish a corporate wellness strategy
Just like wellness is more than eating the occasional kale salad, a wellness program is more than just encouraging gym membership or offering health classes. It's necessary to look at the entire employee population, families and corporate culture and figure out how you can encourage people to change their behavior.
Which isn't always easy.
Wellness programs are extra effective when they're clearly tailored to the goals and needs of specific populations and provide opportunities for employee engagement and input. Here are a few ways to do that:
Administer a baseline survey to assess employees' physical activity levels, dietary preferences and interest in health and wellness options. Some companies give employees a health risk assessment and are placed in one of several designed programs that encourages them to meet customized health goals throughout the year.31
Assess existing opportunities for physical activity at the worksite (think: bike racks, walking paths).
Develop specific targets (e.g., 25% of employees join a lunchtime walking club).
Identify a senior leader who will support and participate in the company wellness program to demonstrate the importance of making health and wellness a priority.
Reward employees for healthy behaviors and results. The most successful incentives tailor the reward to each employee, rather than a one-size-fits-all approach. The more you can personalize incentives and rewards, the more success you will have engaging participants and making wellness programs 'stick'.
Communicate frequently with employees with pamphlets, posters and fact-sheets
Measure success and effectiveness by collecting data on participation rates and progress toward health targets and assessing future needs and participant satisfaction.
Embrace a holistic approach—address physical and mental wellbeing
Stress is a mess: chronic stress at work has a bunch of nasty side effects, like:
Decreased mental health
Triggered depression and anxiety
Inability to concentrate
Emotional exhaustion32
And stress can also lead to severe physical health problems. A few of them?
Immune deficiency disorders
Chronic headaches
Cardiovascular disease
Reduced ability to recover from illness33
The list goes on: stressful work conditions can hamper an individual's ability to make other necessary lifestyle changes, such as:
Quitting smoking
Eating healthfully
Getting physically active
The Canadian Policy Research Networks estimates that stress-related absences cost Canadian employers about $3.5 billion each year.34 What's more, the costs of lost productivity due to mental illness in Canadian businesses equal $11.1 billion per year.35 Furthermore, the World Health Organization has even recognized burnout as an official medical diagnosis.
The way forward is clear: holistic wellness programs. Employers are leading the way by:
Emphasizing the importance of mental health in wellness programs
Promoting healthy mental well-being
Promoting the use of mental health days
Providing assistance or coverage for counseling services or therapy
Providing access to services like telemedicine to decrease barriers to physical or mental health care
Stress is unavoidable—it's a fact of life—so the goal is to minimize and control stress levels.


Convenient, personalized, innovative services that can target a broad demographic
Employees have varying needs, fitness levels, ages and more. They require personalized experiences in their corporate wellness programs. The best way to create a more personalized experience is using digital platforms to host wellness programs. These platforms help generate specific wellness goals and activities based on each employee's preferences—helping reduce stress via mindfulness for some and promoting bike commuting for others. The implementation of services like telemedicine can also help target a broad demographic regardless of location and other personal factors.
Analyzing employee usage of corporate wellness programs
Program evaluation is critical to maintaining accountability for a wellness program. Are your employees using your offerings? Why or why not? Conducting regular evaluations and analyses to see what will be most helpful and then following up to see who is using what is essential to measuring results and adapting your programs accordingly.
Overall, there are three types of evaluation:
Process evaluation (participation rates, level of interest, participant satisfaction)
Impact evaluation (short-term changes in attitude, behaviors, and skills)
Outcome evaluation (long-term goals like financial outcomes and biometric health outcomes such as BMI, smoking cessation, blood pressure, and cholesterol)36
There are lots of ways to measure impact and outcomes, including contracting outside experts to conduct reviews, conducting focus groups and employee surveys, or performing health risk assessments and cost-benefit analysis, including medical claims comparisons.37
Start with a survey of what employees want.
What are your team's needs? This evaluates specific health concerns. For example, is the nature of your team's work sedentary? Are they stressed? Are they able to take breaks throughout the day?
What are your team's interests? This determines what might pique your team's interests. Basketball or yoga? Crossfit or meditation? This helps you steer clear of a 5 am boot camp that no one shows up for rather than the after-work rock-climbing clinic everyone loves.
For this, you could use a version of a tool like a Culture of Wellness Self-Assessment.
There are other tools online, for free, such as Wellsteps' ROI calculator, its Wellness Budget Calculator, and its Checklist to Change, which helps evaluate what easy changes a company can make to increase wellness.
Once you've set up your corporate wellness program, one of the most important strategies is to ask your employees for feedback. Send out regular surveys or hold quarterly meetings to gauge how employees are responding to your wellness initiatives. How would they improve the program? What's going well? What isn't? All of this will help you adapt your corporate wellness programs according to your employees' needs and desires.
Many companies focus on return on investment on the dollars spent on wellness initiatives, but it's equally important to consider value of investment (VOI). This includes examining the broader impact of programs on core priorities for your organization, which may include improved employee morale, talent attraction and retention, enhanced company loyalty and heightened customer loyalty.

What's the connection between corporate wellness trends and technology?

Technology offers a number of opportunities to improve corporate wellness strategies. Interactive platforms like CoreHealth turn corporate wellness opportunities into team-building challenges with social networking, team challenges, and gaming.38 Also, it hits the mark on personalization: users can set up their own challenges on weight loss, nutrition, or exercise.
AI also has a role to play in corporate wellness—it can identify trends and make forecasts for the future. Employers can use AI to collect and analyze data to improve wellness initiatives, and AI software is also able to provide better personalization and rapid responses for employees.
Telemedicine services like Dialogue also play a crucial role in workplace wellness. Employers creating an employee wellness program can use telemedicine to educate, motivate, and provide treatment.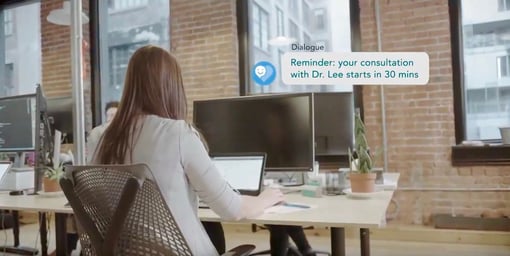 The availability of 24-hour, on-call care from medical professionals supports the on-site benefits and culture that other workplace wellness initiatives foster in more than a few ways:
When worksite screenings turn up medical issues, telemedicine benefits provide the follow-up to address them.
Stress management initiatives are bolstered by telemedicine's mental health offerings.
Telemedicine empowers employees to proactively address and manage health issues before they become chronic health conditions that interfere with workplace productivity.
Telemedicine can assist employees with questions regarding nutrition, disease management, and an overall healthy lifestyle.
How can you implement a corporate wellness program?
You'll want to choose wellness program providers that help gauge employee preferences, and then offer a variety of options that meet your company's needs—from on-site fitness to incentive programs to a digital wellness platform or telemedicine benefits.
Here are a couple of questions that can help you find the right fit:
Does the vendor offer in-person services? Virtual services? Both?
Does the vendor provide a full-service wellness program? À la carte offerings? Both?
Does the vendor provide innovative solutions?
Will the vendor customize programs to meet the specific needs of your employees?
How does the vendor measure participant satisfaction?
Does the program provide marketing and PR support?
Does the program have a wellness portal and/or social media presence?
Whatever solutions you pick, it's important to prioritize flexibility. Your vendors should be accessible for employees who:
Work different shifts
Work remotely
Travel often
Have families
May not be comfortable exercising with their coworkers
How are top Canadian employers integrating corporate wellness into their benefits?
Some of Canada's top employers, large and small, are using corporate wellness benefits to attract the best talent.
Keyera Corp encourages employees to engage in physical activity with employee-led sports teams and a wellness spending account.
NAV Canada offers a health spending account as well as a separate wellness spending account as part of its health benefits plan.
Dejero Labs offers a health-spending account and a separate wellness-spending account to help cover the costs of wellness-related expenses.
Bank of Canada's workplace has fitness facilities on-site, including instructor-led fitness classes. There's also a purpose-built Wellness Centre with quiet lounge space; a wellness library; rooms for meditation, stretching or prayer; a private space for nursing mothers; a light therapy lamp; and blood pressure monitors.39
KPMG LLP has a pool of funds for a wellness program that employees will decide how to use, whether on premium benefit coverage, retirement savings, boot camps, or dog walkers.40
Doctors Without Borders Canada offers reimbursement for gym memberships, yoga classes, and even running shoes.41
Key Takeaways
Corporate wellness programs come in all sorts of sizes and shapes—they can be made to fit any employer or employee. And whatever the style, they make a big difference in employee wellness, productivity, and retention.
Here are some key takeaways:
Your employees spend a lot of time at work, which makes it a great place to introduce new and healthy habits.
Corporate wellness benefits reduce health-related costs for employees and employers.
The best corporate wellness programs meet the needs of your employees, so find out what employees want most and then track how much they're using the perks.
Embrace a holistic approach to workplace wellness, including mental wellbeing.
An effective implementation strategy, with support from the program provider, increases user adoption.
Technology like digital platforms and telemedicine can make your corporate wellness even more productive.
https://www.canadianbusiness.com/work/how-corporate-wellness-programs-got-a-bad-name-and-how-to-fix-them/
Dor, A., Ferguson, C., Langwith, C. & Tan, E. Dor, A., Ferguson, C., Langwith, C. & Tan, E. A heavy burden: The individual costs of being overweight and obese in the United States. (George Washington University, 2010). Available at http://hsrc.himmelfarb.gwu.edu/sphhs_policy_facpubs/212
Carlson, S. A., Fulton, J. E., Pratt, M., Yang, Z. & Adams, E. K. Inadequate Physical Activity and Health Care Expenditures in the United States. Prog. Cardiovasc. Dis. 57, 315–323 (2015).
Goetzel, R. Z. et al. Ten modifiable health risk factors are linked to more than one-fifth of employer-employee health care spending. Health Aff. (Millwood) 31, 2474–2484 (2012).
https://www.forbes.com/sites/pragyaagarwaleurope/2018/06/24/how-can-workplace-design-help-mental-health/#2cb60d514dc1
Healthier Worksite Initiative - HWI | DNPAO | CDC. (2015). https://www.cdc.gov/nccdphp/dnpao/
https://www.mcgill.ca/newsroom/channels/news/workplace-wellness-programs-yield-positive-effects-canadian-employees-286143
https://www.canadianbusiness.com/work/how-corporate-wellness-programs-got-a-bad-name-and-how-to-fix-them/
https://www.newswire.ca/news-releases/ssq-financial-group-takes-home-the-goodlife-fitness-health--wellness-leadership-award-513326711.html
https://www.snacknation.com/wp-content/uploads/2015/12/121-Corporate-Wellness-Program-Ideas-For-Your-Office-Bonus.pdf?mkt_tok=eyJpIjoiWlRRNU9XWXlNMkpqTkRkbSIsInQiOiI0WVNGR2lNazVIUnRla0ltSGFWZHVlNzBvbkkxZitmdHJBQmdWOFNBeExrTlYyekFVdHZLTEloQ3ozWlJWSUh1TlJJSHdGYTdrTDl5WnJxMmlxZ3dITVZqNjBUbGxKaUgwalEwUHc5NFZpczRRRE1rOTh6bTRTNzhSSVZ5R2FFcSJ9
https://www.newswire.ca/news-releases/delta-hotels-and-resorts-celebrates-15-years-as-one-of-canadas-50-best-employers-516322631.html
https://www.canadianbusiness.com/work/how-corporate-wellness-programs-got-a-bad-name-and-how-to-fix-them/
https://www.canadianbusiness.com/work/how-corporate-wellness-programs-got-a-bad-name-and-how-to-fix-them/
Sapolsky, R. Taming stress. Sci. Am. 289, 86–95 (2003)
American Psychological Association. How stress affects your health. (2013). at http://www.apa.org/helpcenter/stress.aspx
Martin Shain, et al., "Mental Health and Substance Abuse at Work: Perspectives from Research and Implications for Leaders," A background paper prepared by the Scientific Advisory Committee to the Global Business and Economic Roundtable on Addiction and Mental Health, November 14, 2002.
http://ways2wellness.org/wp-content/uploads/2016/06/Evaluating-Your-Workplace-Wellness-Program-Toolkit.pdf
http://ways2wellness.org/wp-content/uploads/2016/06/Evaluating-Your-Workplace-Wellness-Program-Toolkit.pdf