Writing an anniversary letter for Dialogue has become somewhat of a tradition and is a really great way to take a look at what the past 12 months looked like for the team and at the impact Dialogue had. Every year, I am in awe by how much is accomplished in such a short time. Year 5 was no exception. Beyond the incredible accomplishments of the team, I saw all of our colleagues come together, and hold on to each other, in a way that I could not have imagined. Below are just a few highlights from a year that has allowed Dialogue to grow, evolve and mature in ways that only rare life circumstances can do it for a company.


We started our fifth year in confinement. Last May 2020, COVID-19 had already reached Canada, and we celebrated our 4-year anniversary on Zoom. Back then, many of us thought that we would do an in-person celebration in the summer. But, summer 2020 had other plans for Dialogue, and for the world. The pandemic was nowhere near being done, and its spread continued to affect the economy, steal lives, and leave many people lonelier and more depressed than ever.

At the same time, and for the first time in 4 years, we witnessed a massive adoption of virtual care. We had scores of clients knocking on our door asking to launch Dialogue for their employees the next day. Onboarding 100,000 new members in a single day became almost a new norm. We scaled our technology to welcome a million members in a single week, we scaled our care coordination, care managers and medical teams to deliver excellent care quickly, and we scaled almost every internal process at Dialogue to continue offering the high-touch medical care and client experience that our members and clients grew to love.

In summer 2020, Sun Life Financial voted for Dialogue both by offering our services to all their members, and also by investing in us. Our reach expanded to ~6% of the Canadian population.

Then, we expanded our suite of services. Seeing increased mental health issues, we knew we had to offer more support to our members. We acquired Optima Global Health, a company offering Employee Assistance Programs and Disability Management, known for its high quality of service. We quickly rolled out the service to our clients and partners.

The need for health and wellness services continued to increase, and we saw the opportunity to become a public company as a way to raise the necessary funds to continue serving our clients with relevant programs and services. On March 30th, Dialogue became the first Canadian telemedicine company to go public, completing our IPO under the ticker symbol CARE (which, in one word, and in one symbol, represents everything that we do).

Our fifth year was not only all about growth, however. It was about adjusting to working from home, and for very many of us, learning to manage the workload with kids at home. Some of us dealt with illness related to COVID-19, while others dealt with grief. We came together, covered for each other, worked through the night for our patients, and lived through periods of both exhilaration and exhaustion.

Our fifth year was a roller coaster, the advanced kind of roller coaster, the one reserved for the big kids… but we learned to adjust as the ride continued taking us through its various twists and turns. There was no going back or stopping it, so we held on tight, both to the ride and to each other. I am so deeply grateful for the colleagues who were on that ride. Thousands of people benefited from the work our team did – better mental health, better general health, faster diagnostics in a time when everything slowed or closed down. So this year, I want to say thanks, first and foremost, to our team members. You are the reason why millions of people, in Canada and in Germany, have access to excellent care, and I am so grateful for the work you do every day. From the bottom of my heart, and on behalf of millions of individuals who have access to Dialogue, thank you.

And to all our members and clients – trust that we will do everything to continue delighting you every day with our service.

And finally, to our new investors (and friends, and family members who bought Dialogue shares), we will work hard for your trust.

Year 5 – thanks for bringing to us a wealth of new experiences, giving us the opportunity to increase our reach and impact, and forge new friendships for our colleagues. Year 6 – bring it on!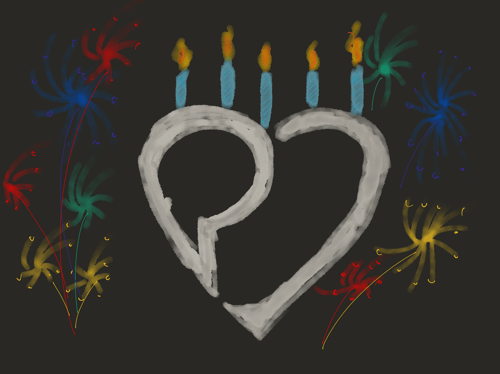 Curious to learn more about our journey? Take a look back at our 4th year anniversary blog post and 2020 Year in Review!