At your pace. On your time.
This month's product update is focused on new features that give you direct access to resources to use at your own pace, and a simplified way of scheduling appointments with our medical care team at a time that's convenient for you.
Read below for more information on the new features!
Quickly book appointments at the best time for you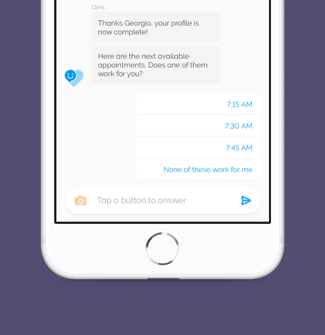 At Dialogue, we focus on making sure you get access to the care you need as quickly as possible.
So when you need to book an appointment with one of our practitioners, you can now use the self-scheduling feature to find a time that works best for you.
You're able to choose from the next three available time slots (typically same day and within 15 minutes) with just one tap. If you don't see a time that works, or you need to book an appointment for another day, you still have the option to chat with a care manager for immediate assistance.
Find the closest, most convenient medical care facilities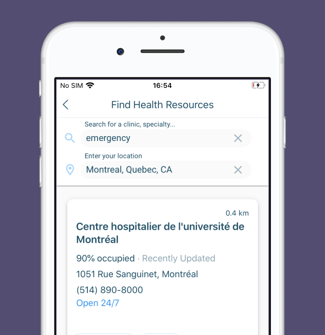 Patient safety is our top priority, which means sometimes our healthcare team will recommend an in-person consultation to ensure you get the care you need.
With our new self-navigation feature, you'll have access to our database of over 10,000 medical care facilities across Canada to quickly find a walk-in clinic, ER and other facilities closest to you. Available directly from the home screen, simply choose "Find Health Resources" to search by category and filter by your location. You'll be able to see directions, contact information, occupancy rates, and waiting times for locations closest to you!
Follow your preferred path to happiness
* For Stress Management & Well-Being Members Only *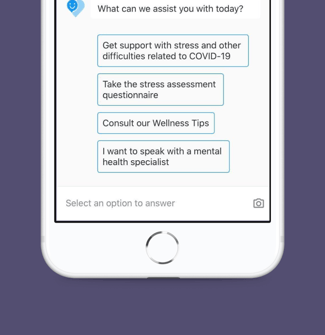 Every May, Canadians rally around the Canadian Mental Health Association's (CMHA) mental health week to bring awareness to and to promote mental health. We all have a role to play in this, and it starts with you!
We understand that some of our members prefer to self-navigate and are just looking for a little guidance on how to stay happy and healthy, so we added a self-guided flow in the app. You can see the results and recommendations from your stress test, access our wellness tips on topics such as sleep, nutrition, physical activity, and more at your own pace, and choose what steps you want to take next—including speaking with a mental health specialist when you're ready.
Keep your app up-to-date
We're continuously innovating to bring you the best virtual healthcare experience, so don't forget to keep your Dialogue app up-to-date to take advantage of the latest features (iOS and Android users can turn on automatic updates) !
To share feedback or new feature ideas, let your voice be heard by joining our Member Collective. Click here to find out more about this exclusive group.
Beyond your fingertips—bug fixes and stability improvements
Behind-the-scenes optimizations and tweaks were also part of this month's release to improve the patient experience and stability of the app to:
Keep wait times low and time-to-consult quick

Strengthen security with email verification

Add ability to update your email directly in the app