Welcome to the latest edition of our product updates newsletter!
A new year = new features and more optimizations for our members! We've added a how-to guide so members can maximize their use of Dialogue, optimized our patient intake flow, and released new features to our employee assistance program (EAP).
Read on to learn more.
What's new with the Dialogue app?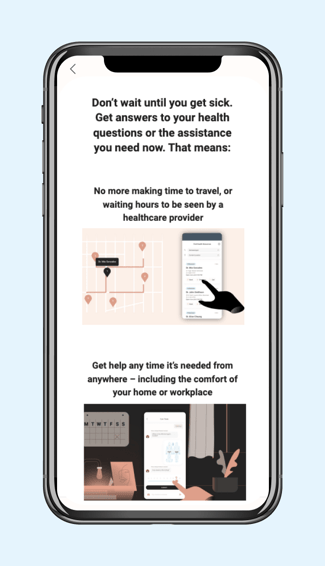 * NEW RESOURCE* A guide on how to use Dialogue
What is telemedicine? How can Dialogue help me? If you're unsure about what you have access to with Dialogue, and how our multidisciplinary medical team can help you be happier and healthier (even if you're not physically unwell!), have a look at the Ultimate Guide to Using Dialogue.
Discover how Dialogue gives you quick and easy access to the largest, most experienced medical team in Canada, and how easy it is to get answers to your health questions—without leaving the comfort of your home! Access the guide directly from the home screen of the Dialogue app.
* UPDATE * Faster access to medical care
One of the great benefits of virtual care is how quickly and conveniently members can get access to medical care. Our product team is working closely with our medical team to make our patient intake flow even faster, while maintaining the highest level of quality and safety.
We're continuously reviewing and refining each and every health concern to identify the most pertinent questions on symptoms and other medical information, so we can quickly and accurately orient a member to the right resource. This update is available to all members for the majority of health concerns, and we have more improvements coming soon!
What's new with our employee assistance program (EAP)?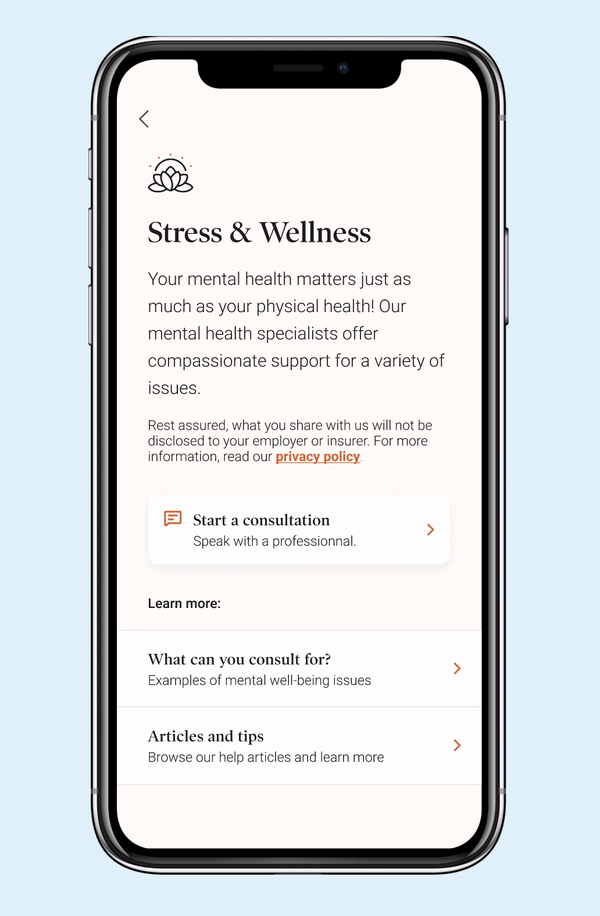 * NEW * Articles and tips to help with a variety of wellness issues
At Dialogue, we're committed to helping our members when in need, but we also have a strong focus on prevention. Research demonstrates that daily, incremental changes can help you feel happier, less stressed, and to be better equipped to cope with issues you might be dealing with.
So we've added a number of articles and tips developed by medical and professional experts that you can reference at any time to get answers to questions, to better cope with work-life situations, and to help you build upon or start new healthy habits. Articles cover the most important wellness topics across categories such as stress and wellness, family and relationships, work and career, legal and financial—and more are on the way!
To get started, log on to the Dialogue app, and from the home screen, tap the tile most suited to your concern. For example, if you're looking for tips on how to achieve a better work-life balance while working from home or how to cope with anxiety and stress of the COVID-19 pandemic, tap Stress & Wellness and scroll down to see the Articles and tips available to you. Or if you want advice on how to easily create a personal budget in 4 steps, tap the Legal & Financial tile to check out this article.
These resources are available on-demand for EAP members, and if you want more information or help with the advice provided, you can book an appointment with one of our specialists directly in the app!
* NEW * Consultation sessions specifically for managers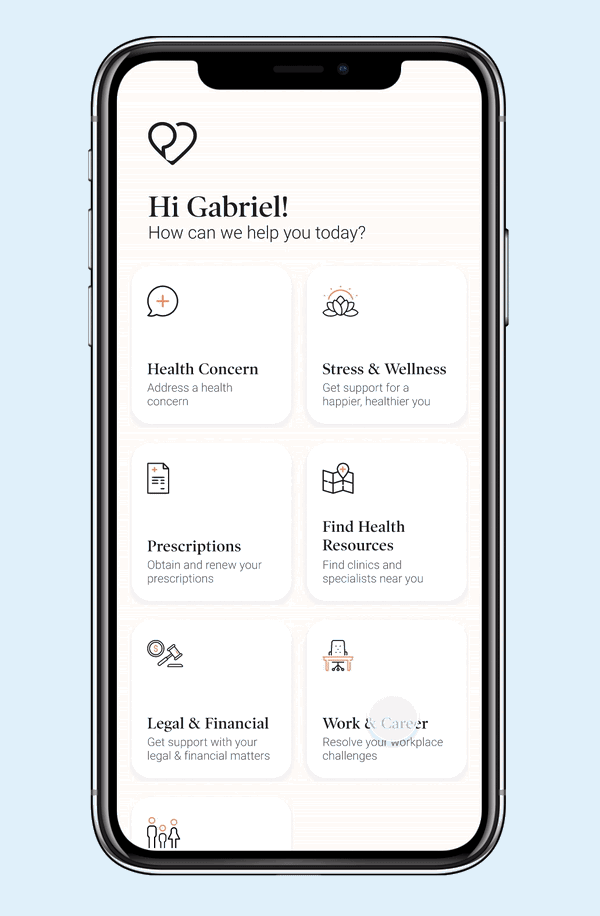 The past year has caused dramatic changes to Canadian workplaces and its employees. From transitioning to a remote workplace to trying to manage work-life balance while working from home, managers are facing new challenges on how to best support their employees, and maintain a cohesive, productive work environment.
For example, how do you foster effective collaboration with a remote team? Or if you notice one of your employees is struggling with work-life balance, how can you help them before they experience work-from-home burnout? With the latest release of our EAP, managers can now consult with a mental health specialist or career counsellor (depending on the nature of the concern), to get advice on how to best approach a variety of challenges related specifically to a manager's role and responsibilities.
To get started, log onto the Dialogue app, and tap the Work & Career tile from the home screen. Select to start a consultation and choose "Support and coaching for managers", where you'll also be able to add specific details on your concern. Within minutes, a care team member will speak to you about your issue and recommend the best path to take (i.e. book a session with a career counsellor).
Do I have access to Dialogue's EAP?
These new features are now available to all of our EAP members. Not sure if you have access? Check out what services are available to you by reviewing "what's covered" in the Profile section of the app, or speak to your HR team for more information.
Behind-the-scenes: how we continue to deliver the fastest, safest virtual care
Our multidisciplinary care team and dedicated technical team work together behind-the-scenes to continuously improve our processes and tools so we can provide the fastest quality care to our members, while applying the most rigorous quality and safety standards. Here is a summary of what was updated this month:
Delivering a coordinated, personalized patient experience with follow-ups
One of the reasons we can deliver the best care in the industry is because our care team follow-ups up with each and every member after a consultation. With our medical staff speaking with hundreds of patients a day, the number of follow-ups adds up quickly! We've made some tweaks to streamline this process, to be sure our members are getting the personalized attention they deserve.
Faster patient-medical staff interactions
We continuously improve our care platform, so our medical team is working with the most innovative technology in the industry. This month, we optimized the display and load time of patient conversations, making the speed of the thousands of daily patient-medical staff interactions even faster.
Industry-leading data security
As the number of our members grows, so does the amount of valuable patient data! Our tech team works hard to monitor every bit and byte, and continues to make huge strides at maintaining industry-leading data security on our growing patient database.
Keep your app up-to-date
We aim to provide all of our members with the best virtual care experience. If you use a screen reader or other digital assistance tools, or if you simply have a slow internet connection, check out our web application, which has been updated over the past few months with several accessibility features. For example, our web app has been optimized to work with NonVisual Desktop Access (NVDA), the most widely used screen reader for Microsoft Windows, and it also works with VoiceOver for Mac operating systems (ex. macOS).
Don't forget to keep your Dialogue app up-to-date to take advantage of new features and improvements. If you're an iOS or Android user, turn on automatic updates to never miss one!