"[The app is] very simple to use, and has a beautiful design. It's amazing how useful it is!" - Diana
Dialogue is excited to announce the release of a new version of its Android mobile application - delightful to use, with a fresh new user interface and under-the-hood improvements.

In order to continue to remove barriers to quality care and continuously improve our member experience, Dialogue has released a redesigned and rewritten version of its Android mobile application. In this release, Dialogue members will find:
A revamped navigational experience (side drawer) that is familiar to Android users

A redesigned conversational user interface, along with the existing features that users know and love

A new back-end that will allow us to deliver more features in the new year

We even added dark mode!

Member feedback brought to life
A crucial part of the app's success was the involvement and contributions of our members throughout the entire process, from reviewing early prototypes through to testing implemented features. We also invited Dialogue's users to test the Beta version of the app so that we could incorporate their feedback prior to the app's release. A big thank you to all of our members who joined us on this journey! Your valuable insights helped us make the app even better, and we are so proud to work jointly with our members to always raise the bar of virtual care.

How to get the new Android app
Ready to get started? The new Android app can be downloaded directly from the Play Store. Users who already have the Android app can simply update it to get the latest version.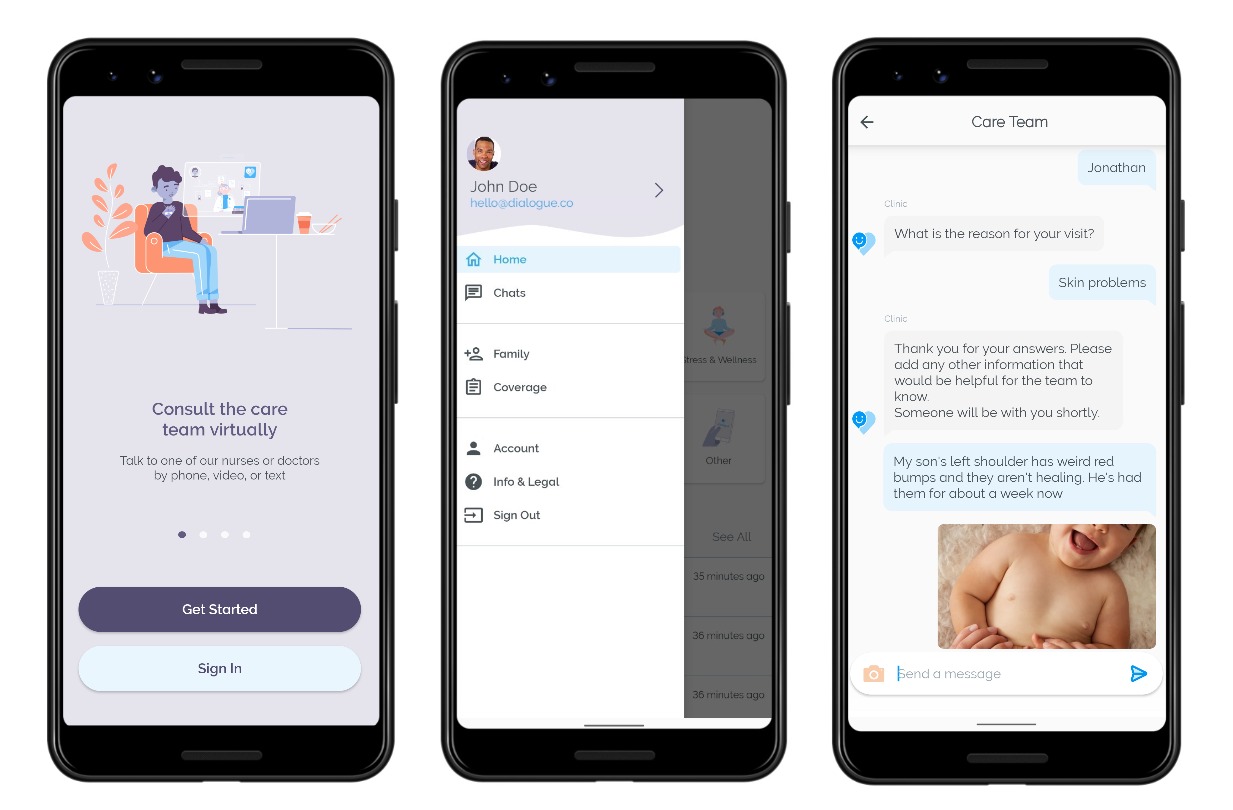 What to expect from Dialogue
As a reminder, using the Dialogue app, you can do the following:
Enjoy the convenience of live communication with our care team for any health concern, anytime, anywhere, via chat, calls or video
Renew your prescriptions quickly and get free delivery to your home or to your local pharmacy
Obtain referrals to see a specialist
Get help navigating the healthcare system for in-person visits to resolve your medical issues that require a physical consultation
Receive follow-ups from our care team

Help us build a better app!

This is just the beginning of many other improvements that we will be bringing to the app so stay tuned! If you have any comments, please feel free to share them with us directly at
feedback@dialogue.co
or via the Play Store.

Want to be part of the team to test Dialogue's next big release? Join the Member Collective. To find out more about this exclusive group, click here.