Welcome to our October 2020 product updates newsletter!

The big highlights this month include an update so members can connect with our medical team in less time than ever before, and the launch of our new employee assistance program (EAP).

Read on to learn more.
Connect with our medical team in minutes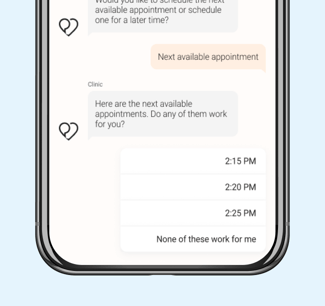 One of our top priorities is patient safety and ensuring our members get the highest quality care possible. With our latest behind-the-scenes improvement to our platform, our members can consult with our medical team in less time than ever, but without compromising on the quality of care they deserve.

Now members can connect with our medical team in just 5 minutes! When using the self-booking tool or coordinating with our care team, you can choose to book a consultation in minutes, but also still have the flexibility to choose a time later that day or the next day if that suits your schedule better.
Want to speak to the same medical practitioner?
After a medical consult, our care team follows up with you to check if the recommended treatment has helped resolve your health issue. If another consultation is needed, you can choose to speak to the same medical practitioner you spoke to before. Simply let the care team know the name of the practitioner and they will coordinate your next consult based on that practitioner's availability.
New wellness services for EAP members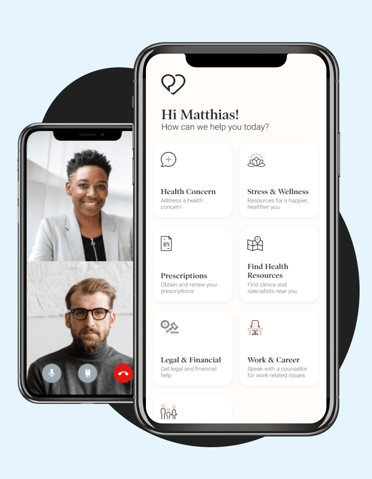 Last week members with access to our new employee assistance program (EAP) saw a few tiles added to their home screen! Discover what is now available to you by tapping on the tile for a brief description on what you can get assistance for.

What is an EAP?

An EAP offers professional support for a variety of concerns including stress & wellness, family & relationship, work & career and legal & financial. The goal is to provide members with quick access to the coaching or counselling needed to help resolve personal or workplace issues.

New services, same user experience

Looking for family counselling or need some legal advice? Book a consult directly through the Dialogue app by using the self-booking tool or by speaking to our care team to help get an appointment with the professional that suits your needs best.

Additionally, your EAP is a family program, so now you can take care of the health and wellness of you and your family from one platform! Simply go to the profile tab in the app to add your family members so they can also access Dialogue.

Do I have access to Dialogue's EAP?

If you're unsure what you have access to, you can always check by referring to the "What's covered" section of the profile tab in the app or ask your HR team for more information on what's available to you.

Questions about COVID-19?
Recent surges in COVID-19 cases across Canada, has us all concerned about our health. If you have questions or if you or a family member has worrisome symptoms, our care team can help guide you to the right resources including self-assessment tools and the location and hours of testing centres. When starting a consult, select COVID-19 as your reason for consult to be directed accordingly.
Delivering the highest quality care—behind the scenes optimizations
What does it take to continuously provide the best quality care to our members? A dedicated technical team and several hundred medical professionals equipped with the most innovative tools and rigorous quality and safety processes.

Each month, we release updates and optimizations for our care team because at Dialogue we believe a happy care team = excellent member experience. Here is a summary of what happened this month behind-the-scenes:
Fast, safe triage

A vast majority of non-urgent medical issues can be treated virtually, however it's not always clear to the patient whether their situation requires an in-person assessment instead. We've streamlined our process so each patient is triaged quickly and accurately so that our care team can determine whether we can treat them safely virtually or they need an in-person assessment.

Driving positive clinical outcomes

A top priority of our mental healthcare team is to help members overcome high levels of stress and anxiety before symptoms worsen. This requires regularly monitoring their levels with assessment questionnaires such as Generalized Anxiety Disorder Assessment (GAD-7) among others. We made a few tweaks to this process so tracking a patient's progress is simpler for both the patient and our care team.

Latest technology = faster, smoother member interactions

The latest release of our care team platform included deprecating older technology so care team and member interactions are as quick and smooth as possible.
Keep your app up-to-date
Other behind-the-scenes optimizations and tweaks were also part of this month's release to improve the member experience including:
For iOS users:

App lock with Touch ID or Face ID is now available! If you need an extra layer of security because you share your iPhone with others for example, the Dialogue app will automatically lock after a minute of inactivity, and can only be unlocked with a recognized Touch or Face ID or with your password. You can enable this feature by going to the profile > security section in the app.

For web app users:

We released UI improvements to ensure our app is compliant with accessibility standards so all of our members can benefit from our best-in-class service. The app is now keyboard friendly (without use of a mouse), usable with a screen reader, and colour contrast has been improved. Let us know how your experience is!
We aim to provide you with the best virtual healthcare experience. Don't forget to keep your Dialogue app up-to-date to take advantage of new features and improvements. If you're an iOS or Android user, turn on automatic updates to never miss one!