Welcome to the latest edition of our product updates newsletter!
Diversity and inclusion is one of Dialogue's top priorities. Not only have we committed to being a diverse and inclusive workplace, but we've also introduced measures to ensure our members have a safe and welcoming experience on our platform and with our care team. We've listened to the feedback from our members and are happy to announce our recent app improvements, with more to come as we continue to evolve.
Read on to learn more.
Diverse and inclusive standards of care
Thanks to professional health organizations whose mission is to ensure all gender identities and gender expressions have access to health and wellness services without discrimination, we have a better understanding of how to improve and make our member experience more inclusive. Here are a few changes you'll see in the Dialogue app: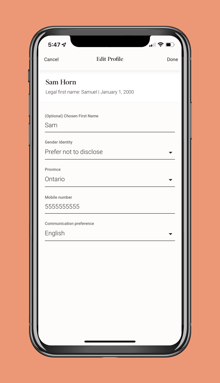 Chosen First Name
Your experience with us should be positive and, more importantly, personal to you. You can now enter or edit a chosen first name - a name that we should address you by instead of your legal first name. This will be used in all interactions between Dialogue and the member, including all communications and interactions with our care team.
For security purposes and to verify a member's identity, your legal first and last name is still required at sign-up only, never used thereafter, and we've completely removed any reference to a member's deadname (the name given at birth but that has since been legally changed) as this is not required for any health or security purposes.
To enter or edit your chosen first name, click Account to go to the profile section of the app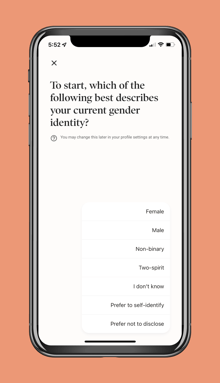 Gender Identity
Members also now have the option of entering their gender identity on their profile or even choosing not to disclose if they are not comfortable sharing it.
For medical purposes only, we still require sex assigned at birth, but it will not be displayed in the app or asked for again afterwards. During triage for physical health issues only (not required for wellness services nor for account sign-up), members will be prompted for their assigned sex at birth, but have the option of setting their gender identity at the same time. Gender identity can be changed at any time simply by going to the Profile section of the app.
Remember that all member information is 100% private and confidential and will only be used when medically pertinent by the practitioner providing care to the member. Our goal is to ensure all interactions with Dialogue are more inclusive to all—and this is just the beginning. If you have any concerns or would like to share your feedback in helping us define future milestones, we're listening! Email us at support@dialogue.co for more information.
NEW! More self-care toolkits are available!
*Applies to members with access to Dialogue's self-care toolkits (iCBT program).
Earlier this year, we introduced a new self-led therapy program to empower members to get proactive about their work-life balance on their own terms and at their own pace.
Dialogue's self-care toolkits are available 24/7 without any barriers to starting. They consist of easy-to-follow, interactive exercises with practical tips to put into action right away based on the principles and techniques used by our own therapists! Now in addition to self-care toolkits for anxiety and depression, we've added toolkits to help:
Cope with loss and bereavement

Manage social anxiety

Deal with divorce and separation stress
Our iCBT program members will see these new self-care toolkits directly in their Dialogue app by going to the Stress & Wellness tile and clicking Access your self-care toolkits. Whether you're actively dealing with one of life's challenges or are simply looking to improve your overall well-being, self-care resources are available at your fingertips!
Keep your app up-to-date
Whether it's a service update, platform optimizations or a new app feature, we aim to continuously provide all of our members with the best virtual care experience. Keep your Dialogue app up-to-date to take advantage of new features and improvements. If you're an iOS or Android user, turn on automatic updates to never miss one!