Dialogue is dedicated to helping people improve their well-being, and that means constantly innovating.
Our most recent product updates include:
Dialogue's Well-Being Score

A personalized Weekly Active Minutes tracker

A Healthy Habit collection on better nutrition

Family planning & pregnancy content
Let's explore these exciting new features and upgrades, and how they can better support your teams.
Please note that while Dialogue's Well-Being Score will be available to all members as of July 6th 2023, only those with access to the Wellness program can benefit from the other improvements.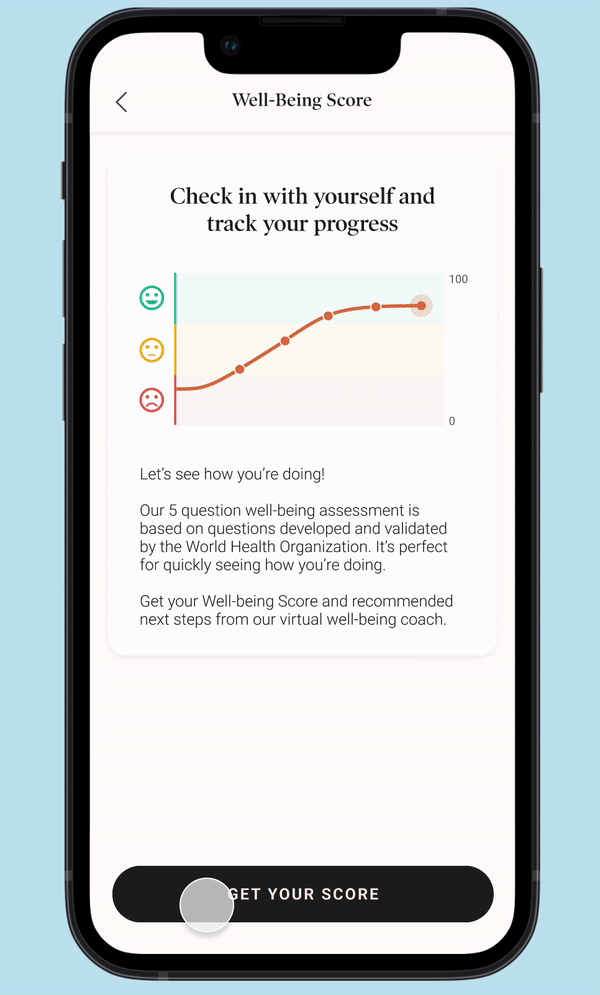 Well-Being Score: a monthly pulse to help you improve your health and well-being
Canadians report feeling more conscious of their health than ever before. It's no surprise then that businesses are looking to make better investments in employee health and well-being. In fact, Canadian employees and HR leaders recently highlighted their interest in employee wellness programs, and the proven benefits on job satisfaction and productivity.
Enter Dialogue's Well-Being Score: a powerful tool designed to help members proactively manage their health and well-being. Each month, members complete a quick, 5-question survey directly in the app that uncovers potential lifestyle areas of concern and empowers them to take action.
Dialogue's Well-Being Score is designed to drive engagement, offer tailored recommendations, and foster positive health outcomes through:
Monthly reminders to complete the survey

Historical results that allow to monitor progress over time

Population rankings, insights, and clear actionable next steps
The Well-Being Score is seamlessly incorporated into Dialogue's Integrated Health Platform™– across all programs – enhancing support and directing members towards the right care, at the right time.

For organizations and HR leaders, the Well-Being Score offers a full portrait of their members' well-being month over month, and helps measure improvement over time. Dialogue's Well-Being Score is based on the world's most established well-being index, the WHO-5 questionnaire designed by the World Health Organization.
Empowering members' wellness journey: Dialogue's new features and resources
Dialogue's Wellness program helps members take charge of their health and well-being by encouraging prevention and a healthy lifestyle. And now, with the launch of new content and features, the program is expanding even further.

Visibility on weekly physical activity
Members can now visualize and measure their weekly activity levels, measuring both intentional and incidental exercise, such as planned workouts or taking the stairs. Weekly Active Minutes is designed to provide health insights and encourage members to achieve at least 150 minutes of weekly physical activity as recommended by the World Health Organization, reducing the risk of depression and anxiety. With access to real-time data, HR leaders can track the percentage of employees who've achieved recommended levels of weekly physical activity, and subsequently, reduced their risk of anxiety and depression.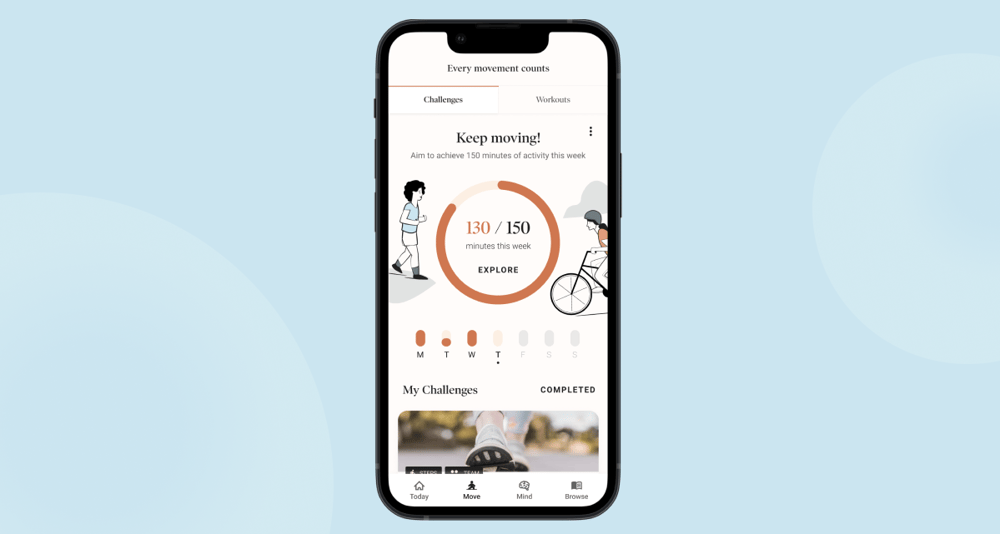 Focus on nutrition habits
The new Eat Well Healthy Habit Collection equips members with carefully curated, clinically-vetted advice for building healthy nutrition habits into their existing routine. Eating well is just as vital as physical activity on the journey to optimal well-being and a healthy lifestyle.

Support for new and expecting parents

Dialogue joined forces with Koble, a digital health and well-being platform, to enrich its content library with a new chapter on family planning & pregnancy. Packed with evidence-based, expert-led videos and podcast-style content, this resource helps current and expecting parents, including different types of families and paths to parenthood, to address and prevent mental health challenges associated with the perinatal journey – from family planning to career comeback.
Supporting members to take charge of their health
Dialogue's latest product updates are designed to help members proactively manage their health, and give organizations and HR leaders valuable insights into their members' well-being. Now, you can make better informed choices to foster a happy, healthy and productive workforce. Learn more about these product improvements by heading to our app.