In the dynamic and nascent world of healthcare technology, achieving significant milestones is a testament to a company's resilience, innovation, and commitment to improving health outcomes. Not only has Dialogue reached $100 million in annual recurring revenue (ARR), but we are working towards attaining sustainable profit.

When I joined the executive team in Q3 2020, we were a point solution provider, generating ~$30M ARR. In Q4 of 2020, I led a strategic planning process which resulted in the implementation of an Integrated Health Platform™ (IHP) – which spanned the continuum of care from prevention through return-to-work services.

The strategy articulated a pathway for investing in product development, mergers and acquisitions, and international expansion. On March 30, 2021, we pursued an initial public offering (IPO) on the Toronto Stock Exchange (TSX: CARE) to finance the strategy. While the median health tech business takes 10–11 years to reach $100 million in ARR, we achieved this feat in less than 7.
Time to hit $10 MM ARR and $100MM ARR milestones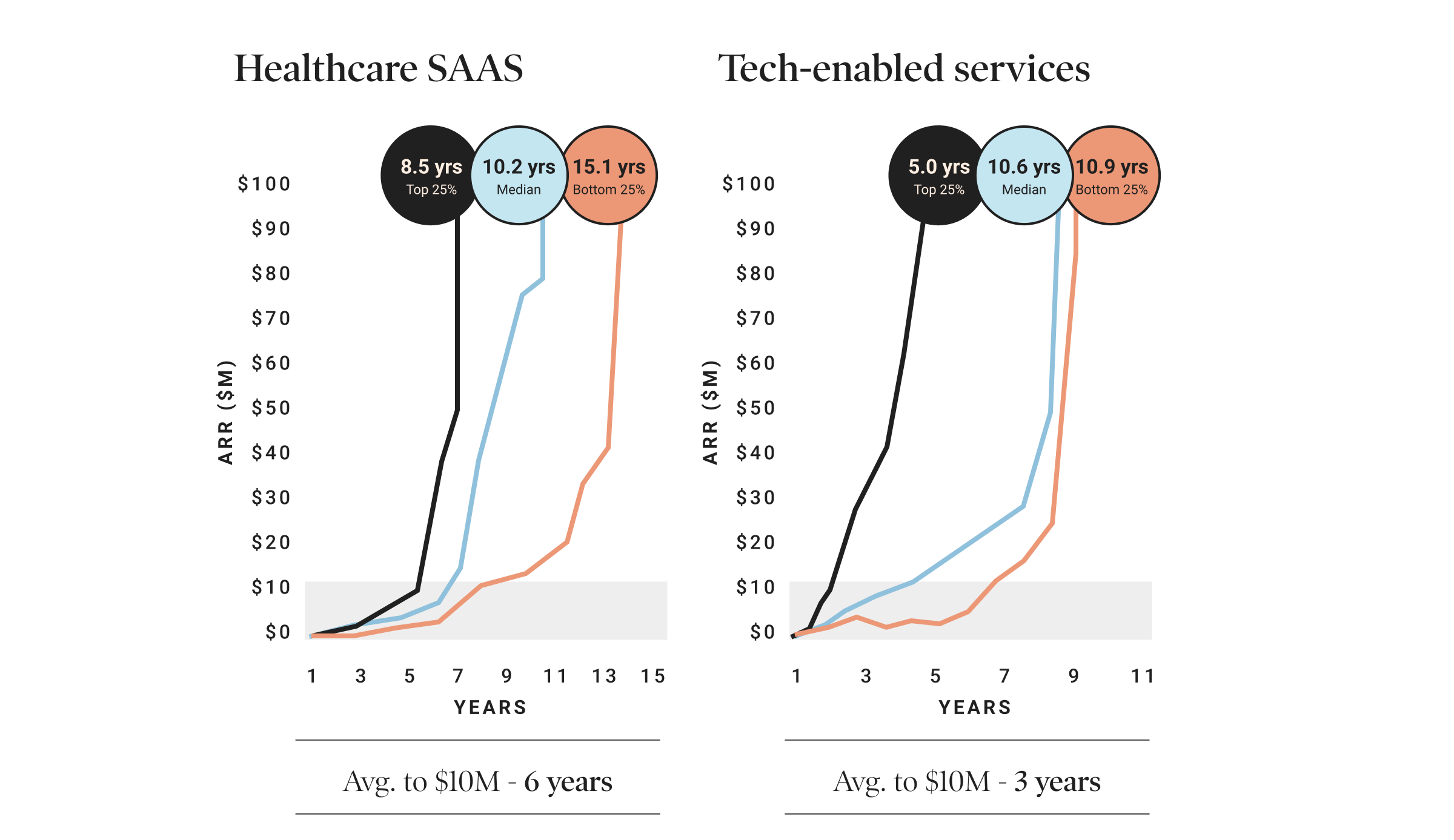 Source: Bessemer Venture Partners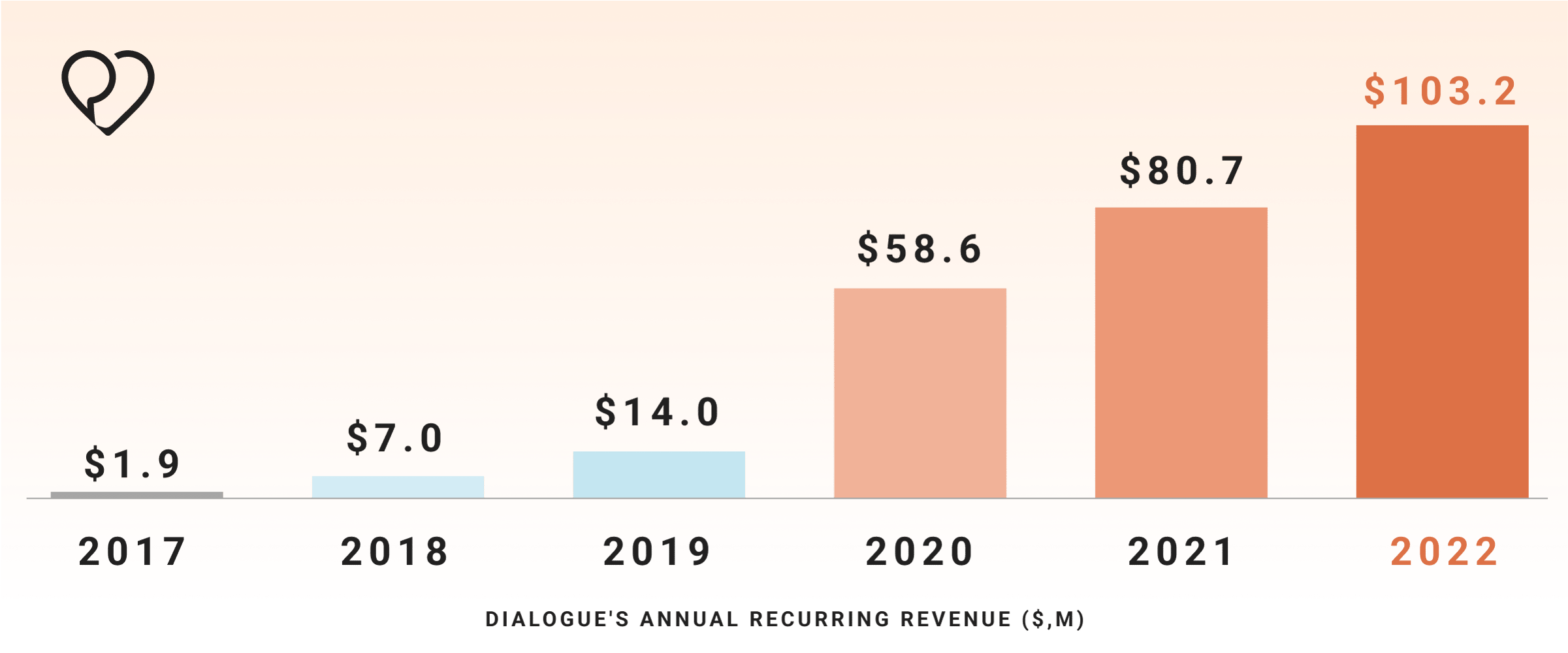 The journey to $100 million is not solely a story of strategic or financial success, but is also a reflection on the transformative impact that healthcare technology solutions can have on clients, patients, members and the greater healthcare system.
12 key factors that have accelerated our path to $100M include:
1. Talent and culture
Our people and culture are everything. We hire, promote and manage based upon our core values. We are surrounded by dedicated individuals who deeply care, have a burning desire to make an impact and exude positive energy. Our success is collective and is based upon a strong track record of experience and domain expertise across healthcare and technology.

2. Tech stack investments
At Dialogue, we begin with the end in mind. From day one, the team has been focused on building a scalable and secure end-to-end platform that acts as a centralized hub for all parties – members, care providers and HR administrators. The flexibility of the IHP enables us to quickly launch new services, expand service offerings or launch in new geographies in a cost-effective manner.

The data gathered from a proprietary database of more than 1.7 million anonymized interactions with members has improved the quality of care we deliver and enhanced our users' care journeys. Over time, we've developed deep enterprise integrations with partners and large clients, further supporting the stickiness of our revenue.

3. Member safety
We place the safety and security of our members at the heart of everything we do. We have experienced medical leadership and have implemented rigorous medical practices that are enhanced through audits, continuous improvement and a Medical Board. Our Clinical Quality Team performs over 1,000 audits per month, which support our continuous improvement programs.

4. Security
Dialogue consistently achieves the top industry standards in data security. We have been SOC-2 Type II Compliant since 2017. In 2022, our audit had zero defects. By keeping our member and client data secure, we foster client confidence, which translates into a larger share of wallet.

5. Product diversification and innovation
Our services are complementary and cover the continuum of care from wellness and prevention, through diagnosis, treatment, and return to function. Product and service diversification has helped to de-risk our overreliance upon a single revenue stream. Through our Hackathons, Think Tank events and strategic planning processes, innovation is interwoven into the fabric of the organization.


6. Organic "same store" growth
We've scaled beyond $100M in ARR through a "land and expand" approach, with many of our customers initially subscribing to one of our virtual healthcare services. Once customers realize the benefits of our IHP, they often expand the number of services their members receive. The IHP's multi-program offering allows us to provide a spectrum of health and wellness solutions in a fully integrated fashion. We measure this growth through Member Service Units (MSUs) and attach rate.

7. Swimming in blue oceans
In the words of Zig Ziglar, "success occurs when opportunity meets preparation." Dialogue was a strong company prior to the pandemic. The core business model addressed a societal pain point with a significant total addressable market and competitive fragmentation. With virtual primary care and mental health services in place, we were in the right place at the right time during COVID-19 and our growth accelerated by more than 10x. However, unlike other companies benefitting from pandemic dynamics, the so-called "COVID-19 winners", we haven't seen a drop in demand.

8. Focus on customer base and subscription model
Given the stickier nature of B2B revenue, which tends to be higher from a net dollar retention perspective, we have focused exclusively on providing subscription services to employers and organizations. We've been unwavering on this strategy since our founding, since it drives a steady stream of recurring revenue.
9. Strong partnerships
We've accelerated our market leadership across North America and Europe through key strategic partnerships with insurance carriers. We cherish these partnerships and have benefitted from the scale advantages that accrue when building relationships with sizable strategic and channel partners.

10. Promoting utilization
We are customer driven and strive to provide an optimal member experience. For example, we were intentional about changing the paradigm on the antiquated service model of employee assistance programs (EAP). While most programs are often underutilized due to poor design or cost implications, we emphasize utilization of our services and work with our clients and partners to ensure that members utilize their benefits. This creates a virtuous circle of value, since our members stay healthier, which in turn makes our clients happier.

11. Disciplined inorganic growth
M&A has been a strategic tool to strengthen our position in existing programs, enhance the breadth of programs available within our IHP, deepen our technology, expand into new geographies and enhance our growth and profitability profile.

12. Board of Directors leadership
Dialogue's Board has helped to build strong relationships with key stakeholders, including investors, partners, and customers. The Board has leveraged its global network of peers and thought leaders to gain insights, forge partnerships and identify opportunities in different markets. I have appreciated and benefited from the diverse perspectives that the Board has brought to the table from different sectors and industries to support our strategic planning and decision-making. A special thanks to the members of Dialogue's Board of Directors.
Reaching $100 million in ARR is a significant achievement, but it's just the beginning! It's a celebration of the impact of our solution and our commitment to sustainable growth. But, most importantly, it's a testament to the trust our customers, partners, and members place in us. We are excited about what the future holds, and we remain fervently committed to our passion of helping people improve their well-being.

In the next article, I'll share the 10 key factors that will allow Dialogue to achieve sustainable profit in Q4 2023. Stay tuned.

In the meantime, learn more about Dialogue here.