There's no arguing that a happy and healthy employee is a productive employee. However, employee productivity is often tested by challenges either in the workplace or at home. Did you know that:
employees will spend an average of 15 hours per year away from work to attend to health-related issues?
89% of employees admit to working while sick, while 27% admit to continue working despite battling mental health issues, such as depression or anxiety?
As an employer, you can help by supporting your staff members and their families through employee health and wellness programs. After all, your team deserves access to the best resources to help improve their mental and physical health. Unfortunately, this may sometimes mean juggling multiple healthcare programs which can wind up incurring a lot of extra project management for HR professionals and business leaders alike. The experience can be equally unpleasant for employees, who have to remember multiple logins and follow different processes for different benefits programs which can lead to increased frustration.
However, there is an alternative option to that fragmented experience: Dialogue's Integrated Health Platform™. Combining all the health and wellness services your employees need into one app, this new approach to benefits access and management is based on research and interviews with HR managers and Dialogue's existing members. This benefits suite was created specifically to eliminate the pain points of managing multiple benefits programs (such as lack of visibility on whether the program is providing value) with the aim of elevating the human resources team and employee experience – and it might just save your organization time, money, and stress.
Read on to discover why an Integrated Health Platform may be the right fit for you and your organization.


What is an Integrated Health Platform?
Essentially, Dialogue's Integrated Health Platform is an all-in-one resource that allows employees to access their primary care, stress management and mental health, and employee assistance programs through a single access point. Its conceptual design merges one commercial agreement, one benefits platform with multiple programs, and a single multidisciplinary care team (with common data and reporting) to create a fully integrated healthcare and wellness experience unlike any other on the market.
Why is a fully-integrated health platform beneficial? Other benefits programs offer a far more fragmented experience. Either they provide zero integration across their programs – which means multiple commercial agreements to manage, multiple benefit access points, and a fragmented care team with no common patient data – or very minimal integration with one commercial agreement, but with the same issues as options with zero integration.
Whether you need to access primary care, mental health support, or legal and financial counsel (among others), an integrated wellness platform allows you to pick a flexible wellness plan that suits your employees' needs best.


Which programs are included in the Integrated Health Platform?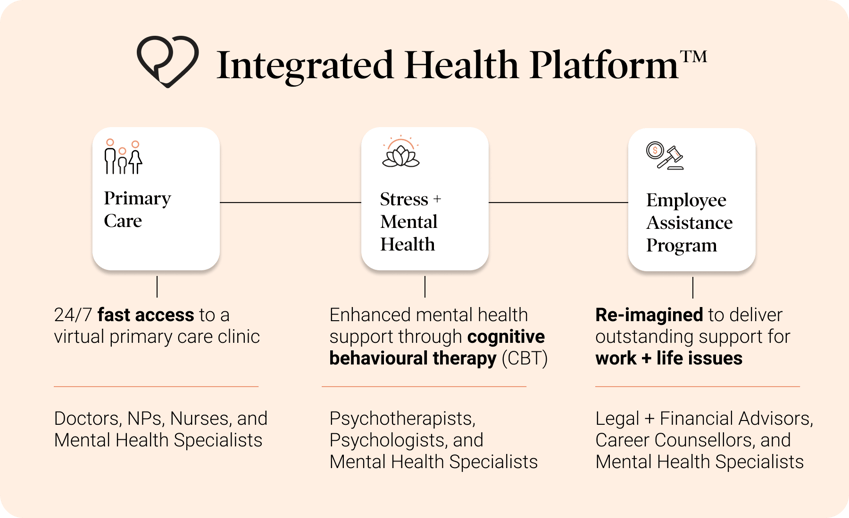 Primary Care Program
Dialogue's Primary Care Program gives your employees 24/7 fast access to a virtual primary care clinic. In-house doctors, NPs, nurses and other healthcare professionals are available to tend to your employees' and their families' general healthcare needs when they need them most.


Stress and Mental Health Program
The Stress and Mental Health Program provides enhanced mental health support through cognitive behavioural therapy (CBT) to treat mental health issues including stress, anxiety and depression, among others. You and your employees will have access to psychotherapists, psychologists, and mental health specialists to help with any of your mental health concerns.


Employee Assistance Program (EAP)
Dialogue's EAP has reimagined the traditional employee assistance program to deliver outstanding virtual support for work and life issues. You and your employees will have access to various resources, including legal and financial advisors, career counsellors, mental health specialists, and more.


Other health and wellness programs – stay tuned
While for now Dialogue's Integrated Health Platform consists of the programs summarized above, this is only the beginning. Keep an eye out for upcoming programs and features that your organization can seamlessly implement in the future to customize your Integrated Health Platform the way that suits you and your employees best.


How do HR leaders benefit from an Integrated Health Platform?
From a human resources perspective, an Integrated Health Platform provides several advantages compared to managing various health and wellness programs. The main benefits are highlighted below.


One provider relationship
Say goodbye to juggling relationships with multiple benefits providers. Dialogue's Integrated Health Platform provides your own dedicated account manager who will be there to guide you and your organization through every step of the process, from onboarding to creating an engagement plan and everything in between.


Stress-free employee eligibility
A single platform for multiple programs reduces the amount of member eligibility preparation work. Instead, the all-inclusive platform ensures that you'll only have to verify each member once, rather than having to repeat the same process across multiple systems. Our proprietary HR administrative portal can be integrated with human resource management systems, minimizing the administrative work that you and your HR team need to perform.


Save time on onboarding and issuing user experience communications
Adding a new program to an existing platform significantly reduces the onboarding and communication requirements because your employees are already familiar with Dialogue (either through personal use or internal promotional campaigns provided in part by Dialogue) and know how to access/use the platform.


Integrated wellness reporting
The Integrated Health Platform's single platform allows for reporting to be integrated across programs, giving you and your team real insight into overall performance across multiple wellness areas. Consistent, aggregated reporting with common metrics (including registration rates, utilization rates, average time saved, and more) permits you to easily monitor progress and provide you with the opportunity to make data-driven wellness decisions.


Modular bundling – add or remove programs as needed
Whether you decide to choose standalone programs or a combination of our offerings, Dialogue's health and wellness programs can easily be adapted to evolve with your organization's needs and budget.


How do employees benefit from an Integrated Health Platform?
Convenient access through one single entry point
With one entry point for multiple health and wellness programs, the login process for members becomes all that much simpler. This means that employees can access all the resources they need through one app and only need to remember one login and one password rather than keeping track of multiple logins for different platforms.


Consistent and coordinated care experience
One shared electronic medical records (EMRs) across all health and wellness programs provides a holistic view of patient concerns and streamlines referrals across disciplines. An employee won't have to repeat their health or wellness concerns more than once; after their issue has been addressed, it is documented and the details are shared with all healthcare professionals who handle their case so that everyone is on the same page. This allows for a streamlined care experience.


Access the best care professionals for your needs
The suite of programs that can be included in Dialogue's Integrated Health Platform allows a multidisciplinary team to work together across a common tool to find the right care professional to tend to you and your employees' health and wellness needs. From doctors, NPs, and nurses to help with primary care concerns, to psychotherapists, psychologists, and other mental health specialists to tend to stress and mental health issues, to legal and financial advisors, career counsellors, and other specialists to tend to work-/life-related challenges, our team is here for you.


Higher levels of presenteeism at work
For every care appointment with Dialogue, an average of 4.2 hours of absenteeism are saved. This means that your employees can get the help they need when it's convenient for them and don't have to worry about commuting to appointments and missing work hours.
To summarize, we've created a simplified version of how our Integrated Health Platform benefits HR leaders and employees below.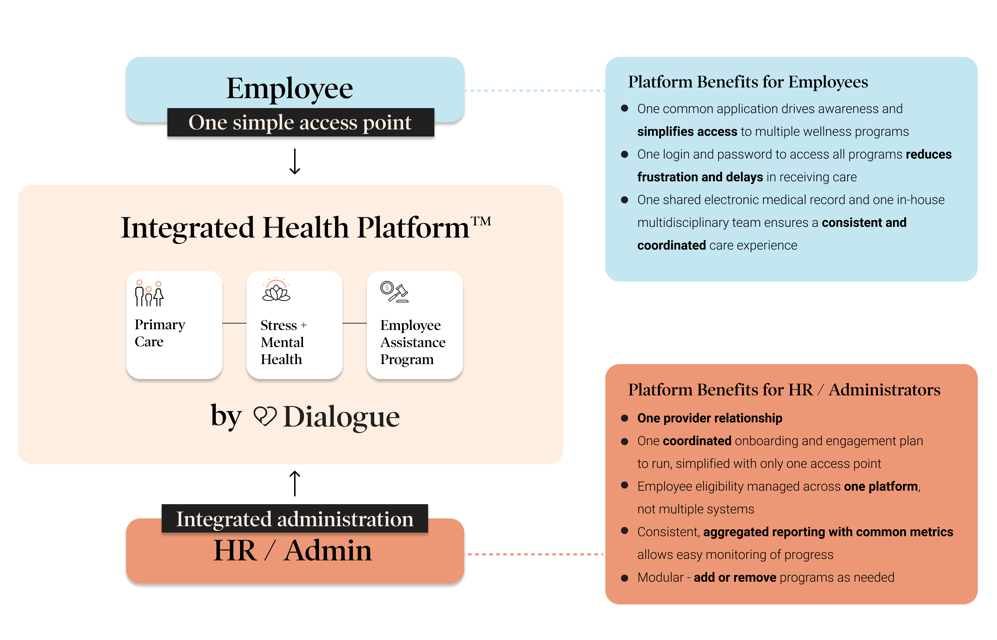 Built with the needs of HR professionals, business leaders and employees in mind, Dialogue's Integrated Health Platform provides all of the benefits programs you require in one place and makes the process of managing your employee benefits all that much easier.

Ready to learn more about how Dialogue's Integrated Health Platform can benefit your organization? Book a demo or speak with a Dialogue account representative now.