We are proud to announce a new partnership with the Federation of Medical Women of Canada (FMWC). It is with great pleasure that we embark on such a wonderful collaboration with them.
Our virtual healthcare platform provides timely and efficient medical care to patients and their families from the convenience of their mobile devices. This same flexibility attracts many female healthcare providers because of the possibility to work from home and/or work part-time.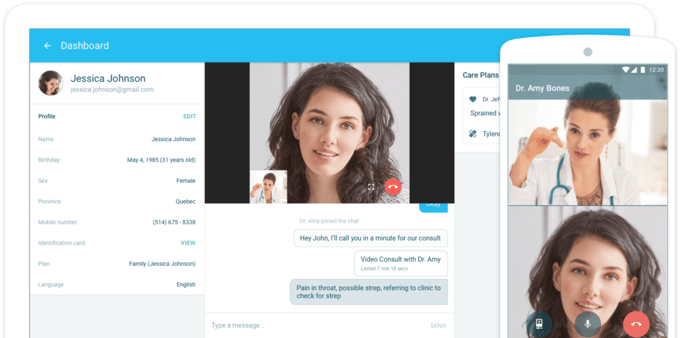 In healthcare, the options for work weeks of less than 40-70 hours are often limited, which makes it difficult to juggle the work-life balance. We have a strong healthcare team in Quebec with a majority of female physicians who appreciate the advantages of not having to commute to work and commit to full-time work. With our expansion into Ontario this past January and to the rest of Canada within the next 6 months, we are looking to add strong physicians to our team.
Knowing that many of our current outstanding physicians joined the team to alleviate the stress of a heavy work-week, we searched to find partners with members of similar values and started talking with the team at FMWC. The interest was mutual.

What Dialogue has to offer FMWC's physicians
Dialogue offers an interesting work opportunity for physicians with a flexible schedule, and the FMWC strives to improve the gender and work inequalities and help its members find such job opportunities.
We are the leading virtual healthcare platform with the highest standards of practice and rigorous protocols. This is a unique opportunity for women in medicine to lead the way to the future of medicine.
We decrease barriers to access health services helping all our patients, including other women. For example, mothers of newborns can consult with a physician via our platform without leaving their homes and exposing their babies to a potential infection in a medical office.

Why I love working at Dialogue
I personally love working at Dialogue! I have two young children, one of which requires regular appointments for hearing loss. I know how hard it is to manage work and home responsibilities.
The time I save by not commuting to work, and the flexibility to schedule work around my children's multiple appointments is priceless! It allows me to focus on both my passions: motherhood and medicine!

Are you a healthcare professional?
See our current job openings and come and shape the future of medicine with us!