Welcome to the latest edition of our product updates newsletter!
Every May, Canadians rally around the Canadian Mental Health Association's (CMHA) mental health week to bring awareness to and promote mental health. This month, we'll take a look at how Dialogue can play a role in helping you be happier and healthier. From self-care resources to handy tips and strategies from our mental health professionals, read on to see how we're innovating our platform and generating new resources to help serve you better.
Feeling stressed? Dialogue is here to help.
Dealing with change, increased responsibilities or deadlines at work, and pressures at home can all significantly influence our daily stress levels—in fact, for most people stress fluctuates up and down widely over time.

Common signs of stress include trouble sleeping, often feeling exhausted or frequent headaches, but whether you're experiencing some or all of the above, it's not always easy to recognize the signs of being overstressed, and if symptoms are in fact a sign of something worse. At Dialogue, our top priority is not only to help our members feel better, but to also help prevent issues, like stress and anxiety from leading to worse situations like a burnout.
Check in with yourself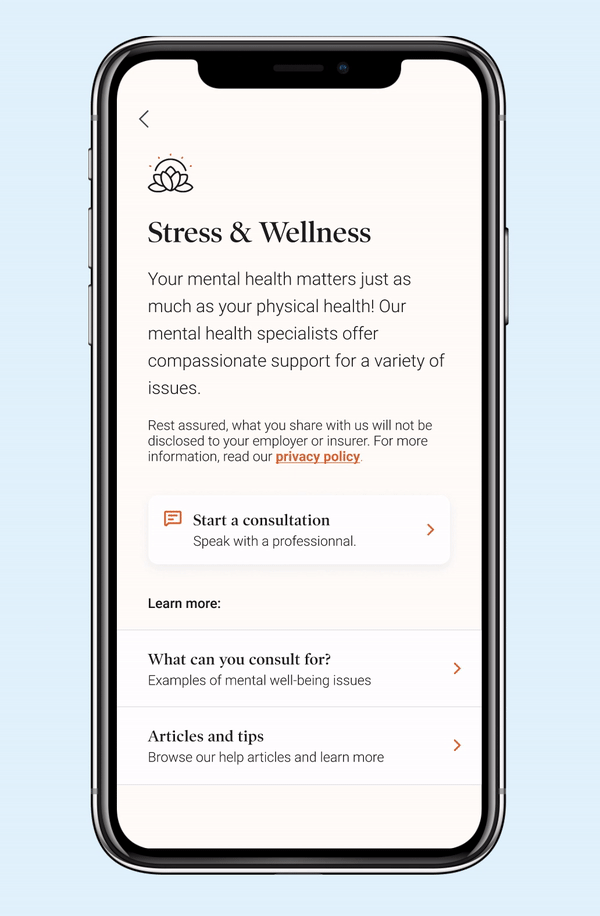 Take a moment each day to check in with yourself—do you feel anxious? Easily irritable? Feeling Zoom fatigue? Our research shows that daily, incremental changes to your routine, can help you feel happier and help you to better cope with fluctuating stress levels. For example, eating healthy, exercise and getting enough sleep are a few ways to help control the physical symptoms of stress. But for many, juggling healthy habits with a busy work and home life schedule can be tricky!

We have a variety of self-care resources, from video capsules to articles, to help our members learn simple, yet effective ways to incorporate healthy habits in their daily routine to maintain a positive work-life balance, such as: How to sneak exercise into your day and Finding motivation in difficult times.
* For Employee Assistance Program (EAP) and Stress Management & Well-Being program members
More articles and tips can be found in the Dialogue app, that cover a broader range of work-life balance issues. Simply tap the category tile from the home screen you're most concerned about to find more resources on the topic.
Get the dialogue started
During mental health week earlier this month, we invited our members to start a dialogue with whomever they were most comfortable with. Good mental health doesn't mean feeling happy all the time, and talking to someone can be a quick way to calm your nerves and relieve the stress you're feeling.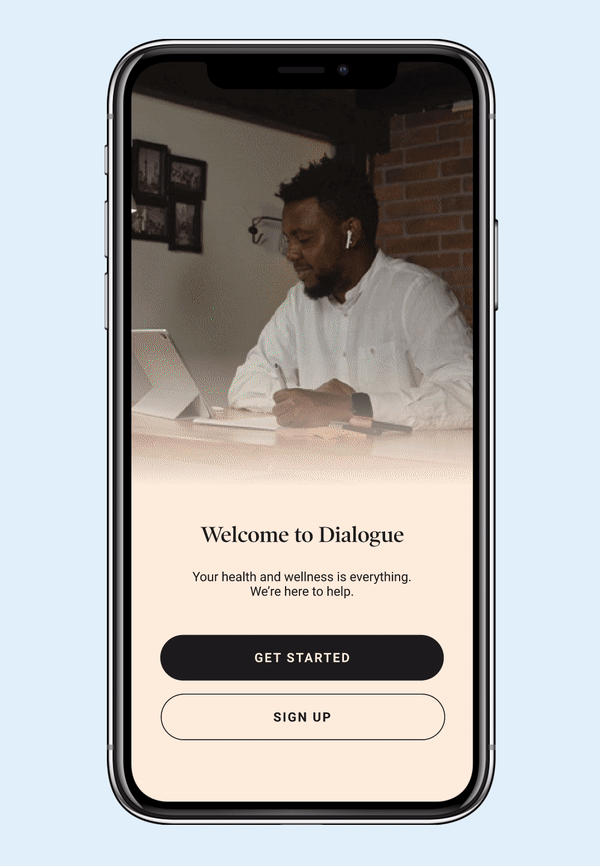 At any time, members can speak to one of our mental health specialists—whether it's to better understand how to apply the tips you've read in an article, understand the seriousness of your symptoms or where to find additional, specialized resources to help with your specific needs. In the Dialogue app, tap on "Stress & Wellness", start a consultation, and use the booking feature to schedule the time most convenient for you.
Stress and anxiety can be caused by a variety of factors i.e. there is no "one solution fits all" which is why at Dialogue, we take a multidisciplinary approach to stress management and well-being issues so each member's care journey is personalized to their individual situation.
For example, in the case when therapy is needed, we connect a member with the best mental health professional that suits their needs. Moreover, virtual therapy sessions means no long wait times and members can get the help they need wherever and whenever they feel most comfortable.
Our therapy approach is based on cognitive behavioural therapy (CBT), a goal-oriented practice known for its proven success of seeing positive changes quickly, and has a high confidence in preventing a downturn and/or a future relapse. If you're curious about CBT, and how it works, read more about it here.
Keep your app up-to-date
Whether it's a service update, platform optimization or a new app feature, we aim to continuously provide all of our members with the best virtual care experience. Keep your eye out in the App and Google Play store for a major release, including a significant enhancement to our intake flow coming this June!
Keep your Dialogue app up-to-date to take advantage of new features and improvements. If you're an iOS or Android user, turn on automatic updates to never miss one!