Welcome to the latest edition of our product updates newsletter!
This month, we'll take a behind-the-scenes look at the daily efforts and continuous improvements we do to offer our members fast access to healthcare, with zero compromise on quality and patient safety.
Read on to learn more.
Fast access to healthcare, with zero compromise on quality and patient safety
Simply put, virtual healthcare is defined as the ability to seek medical help for a variety of conditions remotely, for example via chat, phone or video call with a medical professional. But virtual care isn't just about connecting to a doctor—at Dialogue, we operate at the highest level of quality and safety protocols for every single interaction with our members, which is entirely managed by our medical staff.

Behind-the-scenes, there isn't that much difference between operating a physical or virtual clinic, the differences or rather advantages are at the front line—providing patients faster, more convenient access to medical help, without compromising on the quality of care they deserve.

Here are a just a few ways on how we make quality and safety our top priorities:
Fast, efficient triage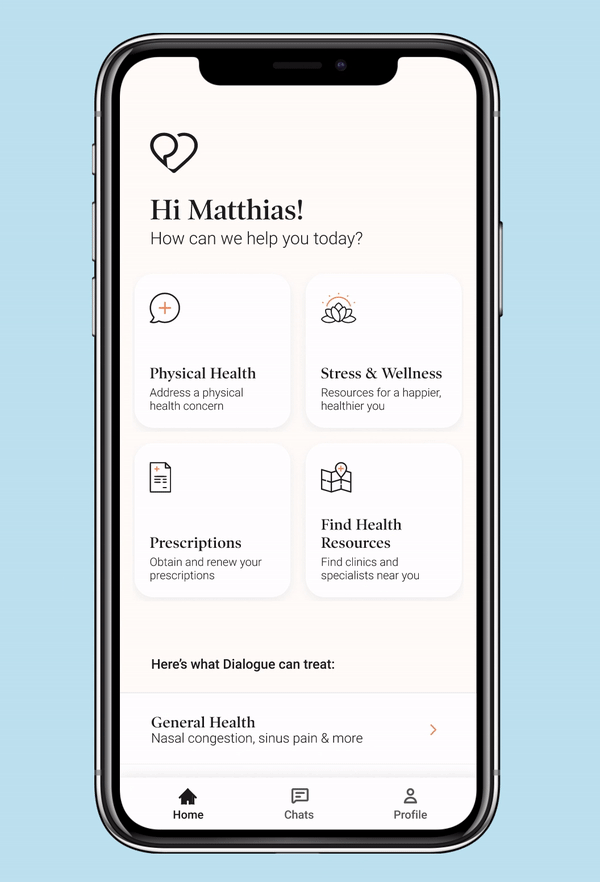 Just like in a physical clinic or ER, virtual healthcare also requires and benefits from a level of triage. Without triage, patients may end up waiting up to or over an hour to speak to a medical professional, even for a virtual consultation, and when the time comes, a good portion of the time you have with the doctor is spent on details that would have been covered during triage.

As with a physical clinic, triage is fully managed by our care team, but through our digital platform, they can make it much more efficient. Instead of filling in general medical info on a static form before seeing the doctor, members complete a digital form on our platform, one that is interactive. For example, if you have a skin rash, you'll be prompted to input where the rash is, how bad it is, and if you're experiencing any other symptoms. In just minutes, pertinent information about your issue is gathered and made available prior to your consultation with the doctor.

From thousands of patient-medical staff interactions, our care team is able to flush out the most common ailments and symptoms and integrate them into our triage flow, making it super simple and quick—for example our average wait time to see a doctor is under 5 minutes! Moreover, through our triage we can quickly detect if a member is in fact in a more urgent situation than they think, and help guide them on the next steps.
"Humanizing" virtual healthcare
Connecting virtually has become a big part of our daily lives, which includes seeking medical help. At Dialogue our goal is to provide fast, convenient access to care, but to also foster a personalized, "human touch" with our members through our virtual platform.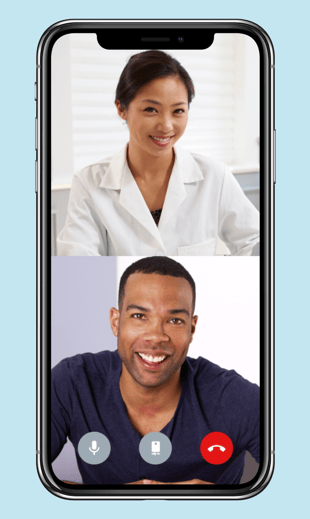 Delivering the best care is not "transactional"—our care team follow-ups with members after each session to understand if they are getting the treatment they need, and to initiate next steps when necessary.

Around 70-80% of primary care needs can be addressed virtually, so rather than commuting to a clinic that might be far for those living in more remote regions, or take long for those living in a bustling city centre, our virtual care model saves our members time in getting medical care. This also applies to mental health support i.e. many prefer getting help for stress or anxiety much more quickly and from the comfort and privacy of their own home. And if a medical test or in-person assessment is required for further evaluation, our care team will provide the necessary referral, so members are only commuting when needed.

Our dedicated tech team works daily to keep our virtual care platform running smoothly - this includes continuously improving the speed and leveraging native features of mobile devices (i.e. iOS, Android), so interactions, such as live video consultations and chats with our medical professionals happen in real-time without a hitch.
Industry-leading data security
Electronic patient health information or medical record makes it possible for us to take a multidisciplinary approach to medical care. For example, if a member is experiencing physical symptoms, such as insomnia due to stress, the likely recommendation would be to speak to one of our nurse practitioners or doctors as well as one of our mental health specialists. But to truly take a holistic approach to patient care, our medical team is consulting and updating the same patient record in order to maintain a single source of truth. Moreover, this way members don't have to repeat info such as medical history and symptoms to each medical professional they speak to.
From thousands of patient sessions a day, to a growing number of members, our dedicated tech team continuously works hard on maintaining and optimizing industry-leading data security of our patient database, so interactions between our members and care team are seamless, and we can continue to offer nation-wide, top quality, holistic care for all of our members.
Keep your app up-to-date
Whether it's a service update, platform optimization or a new app feature, we aim to continuously provide all of our members with the best virtual care experience, so don't forget to keep your Dialogue app up-to-date to take advantage of new features and improvements. If you're an iOS or Android user, turn on automatic updates to never miss one!