As many of us are still working from home, the reflections around flexibility at work are now more important than ever
We speak with our resident wellbeing expert, Dr. Steven MacGregor about the importance of finding a groove while home working.
Mapping out your typical day
The first exercise is to sketch out the flow of your typical day working from home. It is important to note the small actions, which may feel incidental but can have large ramifications. How you spend the first and last minutes of your day, for example, can impact heavily on your productivity and wellbeing during that morning as well as the quality of your sleep, respectively. Time spent working, the timing of meals, and, of course, the quantity of work, rest, and play are all equally important.
Perhaps you do two of these, one based on 'before-COVID' and another afterward.
A Harvard Business Review article
noted that the unease many of us were feeling was actually associated with grieving for our past lives at the outset of the pandemic this year. So, perhaps some element of that is necessary at this time for you to move on. We might also begin to appreciate some of the good things we have now that we didn't have before.
Work-based time audit
While working from home this week, try quantifying the exact time spent on work elements. How much time exactly do you spend in those video conference meetings? On calls? On thinking? Again, some comparisons with the pre-pandemic world might be illuminating.
Replicate this table to try it for yourself: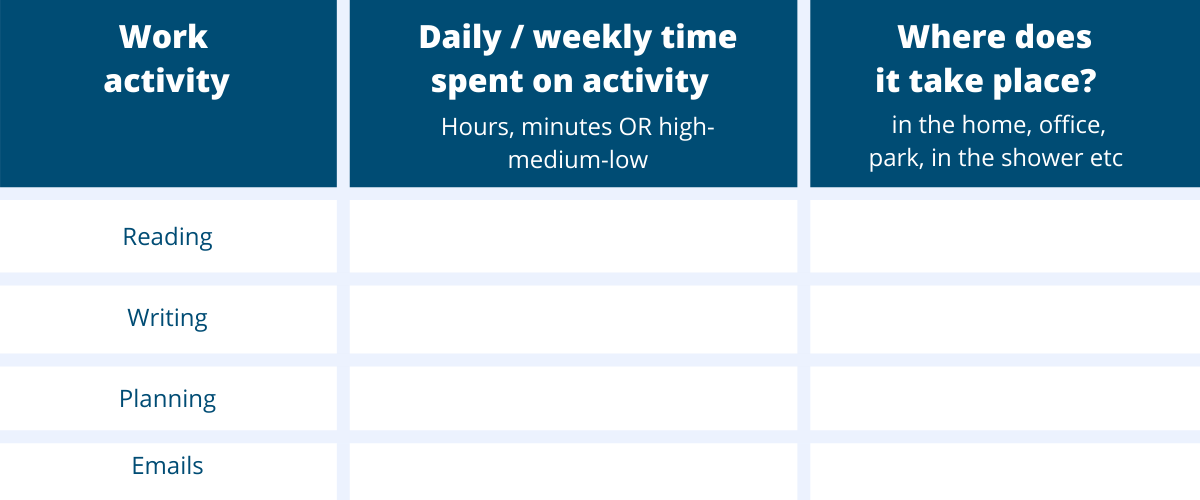 "I don't have time!" is a frequent refrain in modern-day, professional life. Yet, a reflection such as this will help you identify if you are spending the time you do have wisely. Perhaps change will include cutting away the unimportant tasks, delegating to others, or simply finding a new time to do things to be more efficient. I have yet to find a case in my coaching work where a close look at the 168 hours available in a week does not offer the space to live a more productive professional life that optimizes wellness.
American author Laura Vanderkam tested her own limits as a working mother of 4 children in the New York Times article 'The Busy Person's Lies.' She logged over 17,000 half-hour blocks in a full year to analyze exactly how she was spending her time, discovering that, while she was indeed busy, there was still plenty of space left. She concluded that there is no contradiction between a full life that also has space.
It's easy to get dragged along with what, on the surface, may seem like a worsening world situation. We can choose to feel powerless in the face of such factors as infection rates and lockdown. Yet, we can also choose to take our power back. Start with the above exercises. Gain deeper insight into your own working patterns. Find your own groove.
Supporting your staff whilst they are home working needn't cause you any headaches. With access to Dialogue your employees will have all the tools they need to feel happier, healthier and more connected. Not on Dialogue? Find out more about our Corporate Wellness solutions.