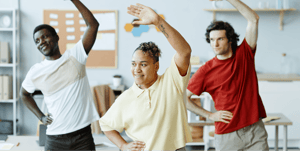 The ultimate guide to achieving total employee wellbeing
Download this guide to gain insights into:
The unique challenges of the modern workforce
4 effective initiatives to help build a culture of health and wellbeing
The problem with traditional wellbeing programmes
Engaging employees towards healthier living
Taking a prevention led approach to health
The power of an effective wellbeing programme
This ultimate guide will help you manoeuvre the ins and outs of employee wellbeing through the lens of a prevention-led model.
When it comes to wellbeing, employers have a responsibility to promote and foster a healthy workplace culture. This is increasingly important as an estimated 36.8 million working days were lost due to work-related ill health and non-fatal workplace injuries between 2021 and 2022 (Health and Safety Executive). Mental health issues continue to rise and absenteeism is far from over, all at a time of ongoing global uncertain and economic pressures.
So how can organisations better support employees through their wellbeing journey? And what are current wellbeing programmes missing?