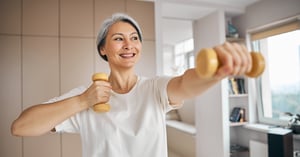 DIALOGUE IN ACTION
Bupa case study
Discover how Bupa, one of the world's largest health insurers, are using Dialogue to improve customer engagement and retention
Bupa has been a health insurance specialist in Hong Kong since 1976, operating both health insurance and clinics. They work with more than 400,000 individuals and 3,200 corporations. Bupa Hong Kong is part of the global insurer that serves over 31 million customers and employs 84,000 people worldwide. In 2019 they were recognized in LinkedIn's Top Companies to Work For, and in 2020 they were ranked as one of Forbes World's Best Employers.
Bupa has a broad range of initiatives centered around health and wellness. However, they were becoming siloed and the user experience disjointed due to multiple systems and engagement mainly driven by emails.
They wanted to drive engagement and increase retention with their individual policyholders. An extension of this was to enable their corporate clients to do the same, but with their own workforces. Bupa Hong Kong also wanted to provide an app for their staff to offer constant and complementary wellness support.
Bupa chose the Dialogue to become their engagement hub for wellbeing. We white-labeled and configured the solution for each instance, creating the 'Bupa4Life' app.
Bupa4Life brings together their existing siloed initiatives into one place, supported by Dialogue, which includes specialist wellness content, health dashboards, action plans, and activity challenges too.
Bupa pulled their existing 'health assessments' into the app, completed by users to help them understand a specific area of their own health. The results from these assessments are then aggregated and used by Bupa's corporate clients to help them plan and inform targeted wellness strategies. For example, for those experiencing back pain, Bupa could signpost via the app the right support and events to help the user manage their back pain and recommend the right next steps.
Because Dialogue is configurable, this could be repeated with different user segments, ensuring a personalized experience that keeps them coming back every day.
Users are also rewarded for their healthy behaviors. Dialogue was made to be used by everybody – not just marathon runners or mindfulness converts. So, as users become increasingly healthier, they collect points by completing assessments, habit-changing action plans, and increasing their movement, which builds up into rewards.
This dramatically elevated the user experience through dynamic campaigns, notifications, and in-app personalization that was simply seamless.