65% of British adults say that their mental health has gotten worse since March 2020. And yet when faced with challenges, 28% of those who need care are unable to access it. (Mind 2021)
With health services being stretched at a time when people need them most, an important question to address is: 'How can organisations support their employees and build resilience during times of prolonged change and uncertainty?'
How recessions impact employees and their wellbeing
From looking at prior recessions we know that these negatively impact people's mental health and wellbeing. According to the World Health Organisation (WHO):
The number of debts somebody has greatly increases their likelihood of developing mental health issues and,
Economic recessions increase the prevalence of psychological distress, substance use disorders and suicidality
Different groups of employees can be impacted in different ways. Remote workers are likely to face greater levels of isolation, work longer hours and experience increased blurrings of work life balance. Employees whose households are impacted by job losses may have to take on additional responsibilities to support their families. Employees in managerial positions, may have to make difficult decisions such as redundancies, reducing resources and managing stressed teams – whilst managing their own wellbeing.
Factors impacting organisations and their wellbeing strategies
Companies and HR leaders are also contending with their own challenges which might include:
Teams being told to do more with less, sometimes with reduced budgets or a reduced workforce
Re-evaluating if current benefits are really serving the needs of their workforce
Assessing if you are attaining the engagement and ROI you expected
In light of the above, the question then becomes: What are the best solutions to support employees in the context of wider business considerations?
Self led digital tools: an effective and scalable solution
Over the years, Dialogue has supported 49,000+ organisations with their workplace wellbeing and we've seen how effective digital solutions can be. They allow us to innovate and mimic human interactions wherever possible to help people adopt healthier behaviours along their health and wellbeing journey.
This equips organisations with scalable, cost effective tools that decrease the barriers to access services people need the most. It also provides a tailored experience where employees can use the best tools to meet their specific needs 24/7. This matters because it's not only the appointment or intervention, but the in between support that matters most in shaping new health habits and behaviours.
Curated by behavioural scientists and vetted by our clinical team, our mental health and wellbeing program tackles real workforce health challenges. It leverages a number of self led tools that work together to empower all employees to take care of their own wellbeing journey. These include:
Self led digital cognitive behavioural therapy (iCBT)
Healthy habit toolkit
Active minute tracking
Wellbeing score
4 pillars of corporate wellbeing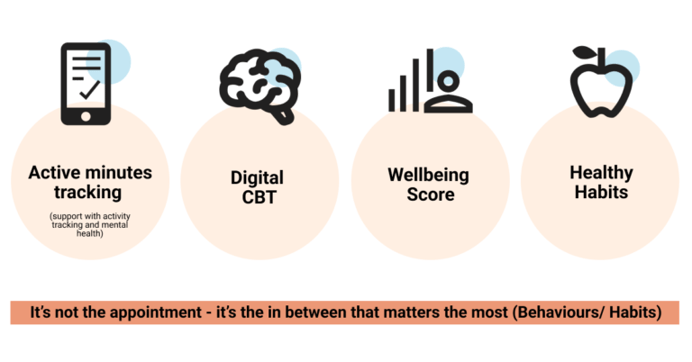 We'll now look into how these self led tools work together to support employees' wellbeing in times of prolonged uncertainty:
iCBT
Self led digital cognitive behavioural therapy (iCBT) provides self led training in psychological therapies that have proven effectiveness for managing and treating common mental health problems. With 15 years in the market, our iCBT programme is the most researched and peer-reviewed. It has been subjected to 8 randomised control trials to ensure it is effective in treating mild to moderate mental health issues.This clinically-proven method uses mental exercises that challenge unhelpful beliefs and, in turn, teach effective behaviours for dealing with anxiety, depression, or other emotional or mental health challenges.
Healthy habits toolkit
This acts as a healthy habit building toolkit that drives habit-forming behaviours. It helps nudge individuals to improve their activity, their sleep, their nutrition and have their very own digital accountability partner to improve their lifestyle. Not only does it help them understand why certain habits are important but it also supports them with the how, by empowering them to choose habits they can start to adopt to work towards their health goals.
Wellbeing score
This wellbeing score is linked to the most established wellbeing index in the world, created by the World Health Organisation. Fully integrated into the Dialogue platform, it helps people uncover the areas of their current lifestyle that put them most at risk of future health concerns.
By monitoring their wellbeing score, employees can measure how they are doing with their mental health. Aggregating the findings also allows organisations to see trends over time and optimise their wellbeing strategies.
Active minutes tracking
We know from research that one of the best things we can do for people's mental health is to be more active. According to the School of Public Health,15 minutes of vigorous activity a day or 60 minutes of walking reduces the risk of major depression by 28% (Harvard T.H. Chan School of Public Health). Tracking active minutes therefore supports employees in improving their physical health and maintain the habits that also help manage symptoms of anxiety, depression and more.
Recession proofing your wellbeing strategy
Recessions are known to heighten the risk of worsened physical and mental health in the workforce. This means that employees are likely to need more support with their mental health at a time when organisations are faced with increased pressures to do more with less resources.
Implementing a mental health and wellbeing programme that leverages digital self led tools is a scalable and cost effective way to give employees access to resources that help improve their mental health and wellbeing. Examples of self led tools include iCBT, healthy habits toolkit, wellbeing score and tracking active minutes. These tools allow employees to feel supported wherever they are on their wellbeing journey, and results in a healthier, more resilient workforce that is equipped for the challenges of tomorrow.