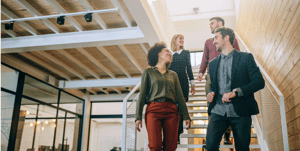 Building a culture of wellbeing that supports employee engagement
Download this guide on 'Building a culture of wellbeing that supports employee engagement' and learn about:
8 high impact areas

that contribute to shaping organisational wellbeing
23 practical ideas

to improve the design of your employee experience
Initiatives from the point of recruitment, through to onboarding and day to

day operations
Long term strategies, quick wins,

questions and examples you can draw inspiration from
Workplace wellbeing is more than just a buzzword especially if you are looking to make it an integral part of your company's culture. Implementing wellbeing at work touches on many aspects beyond tactical initiatives, from partnering with leadership teams, to focusing on inclusion, or demonstrating how it benefits your company and employees alike.
Today's workforce also expects companies to show how they proactively support employees to feel well and do their best. Workplace wellbeing therefore elevates your employee value proposition, plays an essential role in keeping workers engaged and is a key enabler of success.
'For every £1 spent by employers on mental health interventions, employers could get back £5.30 in reduced absence, presenteeism, and staff turnover. (Deloitte UK Mental Health Report, 2022)'
Whilst workplace wellbeing looks different for every organisation, driving cultural change requires a strategic and company-wide approach. One that:
● Fosters the environment which makes wellbeing at work possible
● Embeds wellbeing programmes that meet employees' needs in a relevant way.